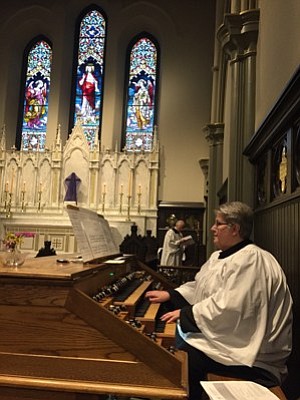 COTTONWOOD — Jo Baim and Marilyn McAdoo will present "Sing to the Lord a New Song: Psalms and Other Sacred Tests to Inspire Hope and Joy" on Sunday, April 17, 2 p.m., at the Monastery of St. Gertrude, 465 Keuterville Road.
Baim – an oblate at the monastery since 1999 — is the Director of Liturgical Music and Performing Arts at Trinity Episcopal Parish in Seattle. Among her duties is playing the church's magnificent All Souls Memorial Organ. She also plays recorder and piano.
Baim began taking piano lessons in second grade and has been a church organist since the age of 16. She earned her bachelor's and master's degrees in musical performance at Walla Walla University and the University of Oregon, and received a doctorate in musicology from the University of Cincinnati. She performs with the Trinity Consort, which focuses on early music, and with the Silk Road Project, which performs music of many faiths and cultures.
"Music expresses what cannot be expressed in words," she said. "When you can combine music and words the meaning comes together in new and beautiful ways."
Besides the musical tradition at Trinity Parish, she credits the sisters of St. Gertrude as the other major influence in her life.