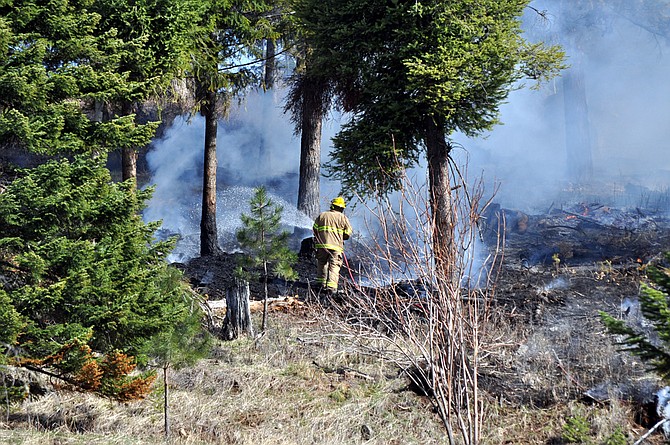 Photo by David Rauzi
Grangeville RFD firefighters were prompt to respond to a wildfire south of town last Wednesday, April 6, where a controlled burn was accidentally spread due to wind.
Emergency personnel responded to two minor wildland fires in the region last Wednesday, April 6.
•
GRANGEVILLE – A fire mitigation project got away from a landowner, resulting in a minor blaze that burned between an acre to an acre and a half south of Grangeville.
Grangeville Rural Fire Department (GRFD) responded to the 3:11 p.m. report with three trucks and six personnel to Michael Williams' property at 88 Cheyenne Drive. According to Chief Dan Tackett, GRFD, Williams had been conducting work at the property, clearing brush and delimbing trees for wildfire mitigation, when wind caught one of the slash piles and ignited adjacent material, and took the blaze up the hill.
Crews worked with hand tools and hose line to tackle the fire, clearing the scene approximately an hour and a half later.
•
KOOSKIA – Cause is unknown for two related fires that burned just less than an acre of grass, brush and ponderosa pine outside of Kooskia.
Responding to the 3:30 p.m. wildfire report 1.5 miles up Big Buck Road were five personnel and two engines total from the Kooskia Rural Fire Department and the Maggie Creek District of Idaho Department of Lands, according to IDL assistant fire marshal Ken Decker.
Two separate fires, approximately 100 feet apart, were reported on the north side of the road. Crews cleared the scene at 4:18 p.m.; however, IDL personnel monitored the site for two consecutive days, officially calling the fire out that Friday.