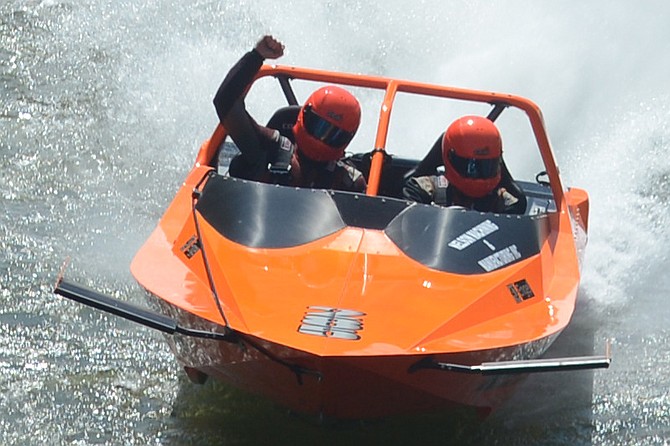 This story has been updated.
RIGGINS — The Little Salmon River has been ticking up toward 3,000 cubic feet per second, and if it's surging when the weather cracks 70 degrees as expected on Saturday, the Confluence Rapid could give Time Zone a run for the best place to watch this year's Salmon River Jet Boat Races.
Competitors are warming up for the 32nd annual event this weekend, April 15-17, and after running through their preliminaries 10 a.m. to 6 p.m. MT Friday, racers and their boats are due at the Salmon Rapids Lodge Parking Area for inspections, 6-8 p.m. MT.
With the World Jet Boat Race to run in St. Maries, Coeur d'Alene and Lewiston next month, organizers are anticipating 10 or 11 boats for the Riggins race this year, including Barry Fenton's Canadian team, Ryan Ringer from Gold Beach, Ore., brothers Shay and Grady White of Meridian and one boat featured on an episode of Top Gear: Ryan Rogers's Pure Insanity.
Friday will feature the "show and shine" barbecue with live music by Joaquin, Verna and Dave, and racing starts at 10 a.m. MT Saturday. Fireworks are scheduled at City Park at dusk.
Racing continues Sunday with the final four laps, with awards to follow at Summerville's after the race.
Details are online at facebook.com/SalmonRiverJetBoatRaces or rigginsidaho.com.
UPDATE (8 a.m. Thursday):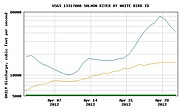 Every April 14 for 102 years, the White Bird streamgage topped out well below 30,000 cfs, but this morning, the reading topped a 74-year old daily record -- and the river continued to rise.
Salmon River Jet Boat Race organizers told the Free Press this morning the high flows appear to have smoothed out many of the rapids and the higher-than-usual waterline will give the river more width and cover many rocks. There does not appear to be much debris in the river, though that could change before race day.
"Safety is the highest priority," Salmon River Jet Boat Races referee Jim Fuller told the Free Press Thursday. "There's always nervousness. Some of the same routes they'd take in previous years may be washed out and some of the rapids may be different."
If river debris became an issue or if weather made the race unsafe, it would be Fuller's decision whether or not to proceed. The National Weather Service is calling for cool temperatures in Riggins tonight and Friday night, warming to sunny and 69 on Saturday.
As for the river conditions, Fuller said "I'll have to get on the water to see it for myself. I've been on the phone with a couple of people this morning and it sounds like debris is not an issue. We're looking forward to a good race."
The Little Salmon River is running well above average at about 2,300 cfs, but far short of the daily record of 2,840 set in 1982. The main Salmon River, however, has posted flows over 32,000 cfs this morning, ending the reign of the 1942 record of 29,100 cfs.
The US Geological Survey noted that the Salmon River has cracked 30,000 cfs other days in April during previous years, most recently in 2012, when it surged to about 70,000 cfs late in the month.
Find the latest on Idaho river streamflows at the USGS website here.