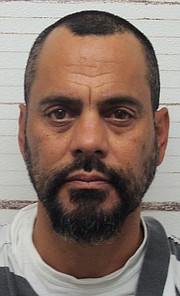 Paul R. Cortez of Nampa pleaded guilty in Idaho County district court today, through an agreement to drop all the charges against him but one felony count for poaching a bighorn sheep in Salmon River country last November. A sentencing hearing has been scheduled for 4 p.m. June 6.
Previously, the Free Press reported details of what Idaho Department of Fish and Game officers Roy Kinner and Dennis Brandt found when they happened upon Cortez's camp:
After looking over the field dressed carcass, Kinner secured a rifle — a Stevens Bolt Action Model 200 in .300 Win Mag topped with a Bushnell 3x9 scope — and secured a hunting knife that was next to the rifle.

According to Kinner's filings, a bullet measuring .307 inches by caliper was located among the entrails Cortez buried in a hole in the sand — a diameter that both Kinner's and Brandt's filings suggest would match the rifle's caliber.

According to Brandt's filings the camp "looked in disarray with items strewn around and not in an orderly fashion."

Brandt interviewed Cortez, who allegedly said he was going to try to buy a tag in town, and that he had discussed doing so with his son-in-law the day before.
In Idaho, bighorn sheep are considered a trophy species; drawing and filling a bighorn sheep tag is a once-in-a-lifetime event few hunters are lucky and skilled enough to achieve.
During his final pre-trial hearing, Cortez told Judge Gregory FitzMaurice that he had gone out as part of a group of mule deer hunters, but became "intimidated by what was going on" after becoming stuck on a hill in a storm the day before he shot the ram. He described the circumstances of the shot that brought down the Rocky Mountain bighorn, saying he thought it was a wolf, then thought it was a mule deer, then, upon seeing the horns, which he said he did not recognize, he shot it. He told the court it was his first hunting experience and that he had never bought a license before.
Cortez pleaded under a Rule 11 agreement, in which the state agreed not to pursue the other charges Cortez was facing in exchange for a guilty plea on one of the wildlife violation felonies. Cortez was represented by Idaho County indigent defenders Vicki Olds and Scott Olds.
See the Idaho County Free Press Wednesday for details.