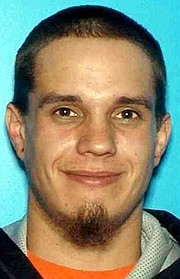 ELK CITY — Felony charges are pending against a 22-year-old Elk City man for allegedly stealing cash from a relative and then absconding with a recently donated pickup to the community's fire department.
Arrested this past weekend in southern Idaho, Quam M. G. Anderson is being held on $25,000 bond in Twin Falls pending transfer to Idaho County.
Anderson was sought as a person of interest in the thefts following an April 4 report by his grandmother that he was missing and had been seen the previous night on Main Street, according to the Idaho County Sheriff's Office. Approximately three hours later, a relative of Anderson's called to report he possibly stole a 1997 Chevrolet pickup Avista had recently donated to the Elk City Volunteer Fire Department (ECVFD). As well, Anderson was also suspected of stealing an undisclosed amount of cash – a felony in this case as the amount is more than $1,000 — from another relative.
According to ICSO Detective Jerry Johnson, Anderson had been staying with his grandmother in Elk City for approximately three weeks prior to the incident, and family members suspected him to have gone to Twin Falls where he had spent a lot of time growing up. An ICSO investigation recovered video from Zip Trip in Grangeville allegedly showing Anderson fueling the stolen vehicle, and an arrest warrant for grand theft auto was issued.
Last Tuesday April 12, a family member located the abandoned pickup – distinguished by its Avista markings – at a Twin Falls Wal-Mart parking lot. Five days later, April 17, Anderson was arrested by Twin Falls law enforcement.
The Free Press reported last week on Avista's donation of its surplus pickup to ECVFD, which noted this would be an upgrade to its fleet that currently consists of 1966-vintage vehicles provided by Idaho Department of Lands. According to Johnson, the recovered Chevrolet was apparently undamaged during this theft incident.
---