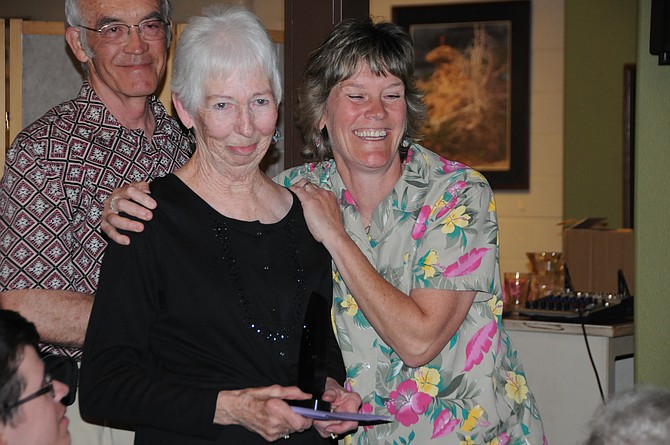 Photo by Lorie Palmer
Syringa Thrift Store Manager Kristi Brooks (right) jokes with 14-year-volunteer Gwen Smith as Syringa Foundation director Clare Chapman looks on.
GRANGEVILLE — "You are the roots of our community. This room embodies philanthropy in the most amazing way," Syringa Thrift Store Manager Kristi Brooks told a roomful of about 70 people last Thursday, April 21.
The annual volunteer appreciation dinner was held at The Gallery, and those who assist at the thrift shop and serve on the Syringa Foundation Board were honored for their service.
"This is definitely a volunteer-based community," Brooks went on. "I have been on this position as manager for 11 months and it has been the most amazing experience."
The thrift store was opened 14 years ago and in that time has funded more than $400,000 worth of projects for the hospital.
"I read that 50 percent on all new businesses fail within the first two years," spoke Syringa CEO Joe Cladouhos. "What an honor to be here and speak on behalf of such a successful, thriving business as well as all of you who make it what it is."
Gwen Smith was bestowed a special honor and stand-up plaque for her 14 years of service with the thrift store and as the foundation liaison.
"You have been a rock, helping make tough decisions along the way and you are so appreciated," Brooks told an emotional Smith.
Volunteer Thelma Landes was also honored for 14 years of service, working every week at the store.
Cladouhos added the store volunteers put in about 800 volunteers a month "or the equivalent of five full-time employees," he said.
Brooks told how the store helps those in the community who cannot afford other material needs such as clothing and kitchen accessories and added the store helped provide items for families who lost their goods in the fires last summer. The store also helps fund the Salmon River Shuttle so people from outlying areas are able to get to appointments and other shopping and outing opportunities.
"I am proud to be here and represent what you do for this community," Brooks said. "Thank you."