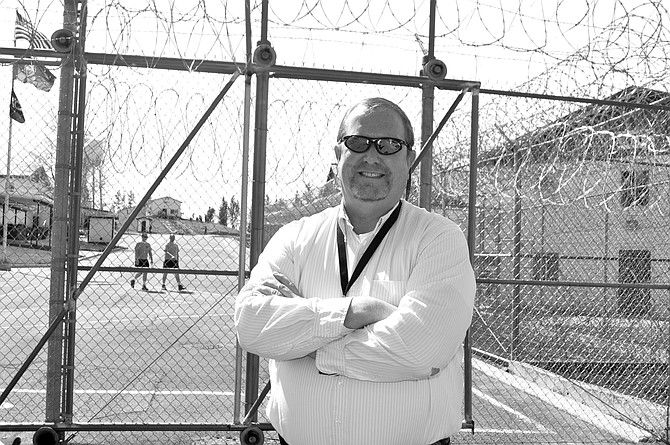 Photo by David Rauzi
At the gates of North Idaho Correctional Institution at Cottonwood, Warden Lynn Guyer will be retiring after 13 years overseeing the minimum security facility.
COTTONWOOD — It's full circle for Lynn Guyer.
The 52-year-old Cottonwood man, who started his career 30 years ago as a correctional officer for North Idaho Correctional Institution (NICI) at Cottonwood completes it at the same facility, retiring from the warden position at the end of the month.
NICI currently averages a 414 male inmate population serving retained jurisdiction sentences ("riders") between 90 to 180 days where offenders receive treatment for substance abuse, counseling, GED and workforce training. At their rider's completion, offenders are evaluated and recommended to the court to be either placed on probation or ordered to serve their underlying prison sentence.
"Change is inevitable. In corrections, that's the only constant that we have," Guyer said. Programming has changed at the minimum security facility during his nearly 13-year tenure based on new studies, case law and the challenges inherent with each new generation of offenders. Some of it worked, some has been found to be ineffective, but the science in offender treatment and rehabilitation is fluid, so the new programming that NICI is implementing as he steps down now, he said, will look much different 10 years from now.
"All we're after is to do the best program. We're always working toward something better," Guyer said.
NICI warden hire timeline
Pending a new NICI warden is hired, ICI-Orofino warden Terema Carlin will split her job to serve at Cottonwood.
Applications closed April 1 for the warden position with interviews planned for the first week in May, and a hire decision tentative between the end of May and the first of June.
Guyer started with Idaho Department of Correction (IDOC) in 1986, two years later transferring to the Nampa Community Work Center as employment development coordinator. In 1990, he went to Caldwell to work as a probation officer, four years later to the IDOC central office in Boise as program coordinator for Probation and Parole (P&P), and in 1996 was promoted to P&P district manager in Twin Falls.
Coming on as NICI warden in June 2003, Guyer oversaw the final phase-out ordered by the IDOC director of the minimum security facility's military style boot camp program, which he said was a big issue for staff, judges and the public.
"It looked good, it was impressive with offenders marching in cadence," he said, "but studies completed outside Idaho showed it didn't work in reducing recidivism, so Idaho decided to get rid of it."
Guyer has overseen the facility through subsequent programs: New Directions addressed prison overcrowding at the time by shortening rider programs from 180 to 90 days, a "force feeding" he said in a short period that hampered the program's effectiveness. The Therapeutic Community program was for high-risk offenders at different rider terms – up to 270 days; "a very effective program," Guyer said, that became less so as additional elements, not based on research, were added. Now as he retires, NICI staff are completing training on a new program for inmates that in general emphasizes more accountability, as well as an academic focus that is less traditional textbook learning and more on offenders being hands-on in demonstrating what they have learned.
During this time, Guyer found multiple challenges to his focus to provide a good program: how to serve the offenders who are receptive to change in the limitations of a 90-day program, on finding and retaining certified and experienced counselors in a rural area, judges' criticism on facility programming, and court rulings that tie staff's hands in facility operations.
Often the question is asked on the legacy a person hopes to leave behind. Guyer responded his philosophy from the start has been to "create an environment of caring and nurturing, because I care for my staff deeply." This has involved becoming more relational with staff; not just asking how work is going but paying attention to how they and their families are doing, encouraging staff to take time off for kids' concerts and sporting events, or help elderly parents – "You don't get those moments back," he said.
As for what is next, Guyer will continue to have a foot in the corrections world, now as a certified independent auditor to inspect prison facilities as per the Prison Rape Elimination Act. It's a business decision to supplement his retirement and utilize his training and experience in a profession that will have demand across the U.S. in both public and privately run facilities.
"I'm going fishing, going hunting," he said, doing a better job on his tomato garden, "but I'll be working a side job."
Guyer's wife, Susan, works at St. Mary Hospital's clinic in Grangeville, and the couple has three grown children, and some grandchildren to enjoy.
"I'm only 52," he said, "It's not like I'm going to stop right now."