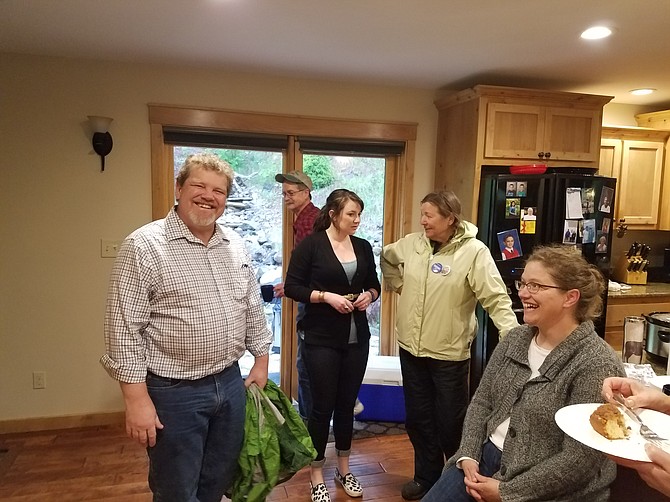 Idaho County Democrats
Idaho County Democrats held a "Party Within the Party" Saturday at John and Laurie Andrechak's home on the Middle Fork. Potluck, correspondence and highway cleanup were on the agenda. 
Democrats live their values, one of which is a clean environment. Despite pouring rain, the semi-annual U.S. Highway 12 cleanup was accomplished with aplomb and no one got sunburned. Visiting Democratic candidates helped clean the stretch of highway and along with other ICDP members, helped in the Earth Day celebration at the recycling collection locations, throughout Idaho County.   
James Piotrowski, candidate for United States House, stopped by on his tour through Northern Idaho to help with the highway cleanup. Piotrowski is in favor of promoting apprenticeship programs that allow young people to get into a trade, earning money while they learn, and make a good living wage afterwards, debt free. He said we need to update the infrastructure to support local economies. Maintaining citizens' ownership of public lands is another important issue for Piotrowsky.      
Jessica Chilcott, of Sagle, a strong candidate for the Idaho House, helped at the Kooskia recycling where plants grown by NICI inmates were given out in celebration of Earth Day. Chilcott is a counselor for a private agency and promotes funding local agencies to care for Idaho residents with behavioral health issues.  She says the way the State of Idaho currently funds its care program is flawed and doesn't provide the help that is needed by so many.  "We are a first world nation and we should have first world health care."
The next monthly meeting will be held after the May 17th election, for reorganization.  For information: www.idahocountydemocrats.org, visit on Facebook page or call Michelle Perdue at 983 3763.
 Barnyard Beasties
The most recent meeting of the Barnyard Beasties 4-H group was April 18. The meeting was called to order by Caleb Barger. The attendance was Kyle and Ryan Alter, Sam, Jared, Paige and Dane Lindsley, Kinzley Adams, Paige Layman, Jordan Clark, Caleb and Camden Barger, Zane Reuter and Hayden Hill.
We talked about the success of the Penny Arcade and the 4-H party this year, getting our record books done on time, the swine weigh-in/tagging on May 14, orders for new T-shirts, demonstrations, new club goals and ideas for community service. Paige Layman gave a demonstration on how to tell if your chicken egg is fresh, and the meeting was adjourned at 6:59 p.m.
—Ryan Alter
Cottonwood Senior Citizens
Agnes Forsman opened the April 19 meeting of the Pioneer Senior Citizens with the Pledge of Allegiance and also led the dinner prayer. Guest was Larry Church of Fruitland, son-in-law of Hilda Nuttman. There were 51 meals served with 19 home-delivered meals. Lloyd Nuxoll won the free dinner.
Katie Remacle, Dixie Sharrard and Diane Schultz each shared a joke with the group. Eileen Hazelbaker was the nickel bingo winner and Judy Arledge and Amelia Frei shared the blackout pot. Door prize winners were Jordie Byington, Amelia Frei, Gen Broker, Marlene Duclos, MaryAnn Kuther and Judy Arledge.
Come join us for a meal every Tuesday for a small donation at the Cottonwood Community Church basement. Meals are served at noon.
Menu for May 3: roast beef sandwich, mashed potatoes, green salad, cherry cobbler.
Grangeville Senior Citizens
The April 18 meeting was opened by the Pledge of Allegiance led by Stanley Modrell and the prayer was given by Orville Biggers. Bev Paradis won the free dinner. Margaret Knapp donated five pounds of coffee. There were 74 meals served and 43 meals delivered.
The nickel bingo winner was Dolores Kindall and blackout winner was Betty Stoorza.
The April 22 meeting was opened with the Pledge of Allegiance led by Stan Modrell and the prayer was given by Jim Myers. Doreen Endsley won the free dinner. There were 64 meals served and 43 hot and 85 frozen meals delivered.
The nickel bingo winner was Mel Willis and blackout winner was Dolores Kindall.
Thank you, Middle School for the nice music.
The menu for April 29: curried lentils and vegetables, field green salad, sunflower seeds, buttermilk dressing and summer fruit salad; May 2: lasagna, tossed salad, buttermilk dressing, rosy applesauce.