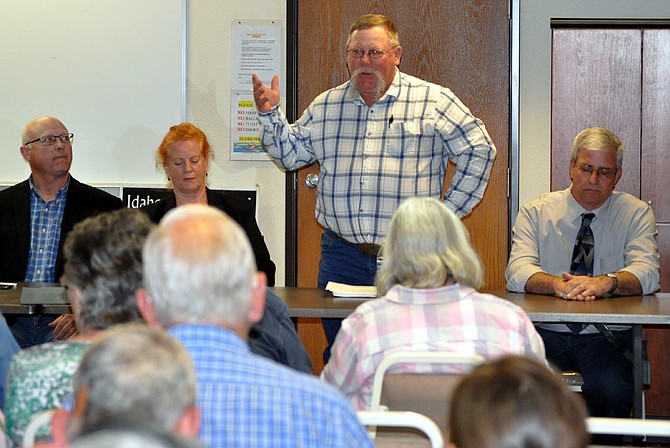 Photo by David Rauzi
GOP elections will be contested in the May 17 primary. Challengers to incumbents in state and Idaho County races attended last Tuesday's April 19 candidates forum in Grangeville. Pictured are (L-R) Carl Crabtree, Dist. 7 Senate; Kris Steneck, Dist. 7B House; Rusty Bennett, county commission District 2; and Denis Duman, county commission, District 3
GRANGEVILLE — GOP candidates for Idaho County Commission and District 7 legislative positions attended a political forum in Grangeville, one of three organized last week by the Idaho County Republican Central Committee.
Attending last Tuesday, April 19, at the Super 8 conference room were District 7 senate candidates Sheryl Nuxoll (incumbent) of Cottonwood, and Carl Crabtree of Grangeville; for House 7A: Priscilla Giddings of White Bird, and Shannon McMillan (incumbent) of Silverton; and for House 7B: Paul Shepherd (incumbent) of Riggins and Kris Steneck of Elk City; and Idaho County Commission candidates for District 2: Rusty Bennett and Mark Frei (incumbent), both of Grangeville; and District 3: Denis Duman and Jim Chmelik (incumbent), both of Cottonwood.
Candidates will face off in the May 17 Republican primary election.
Photo Gallery
GOP Candidate Forum April 19, 2016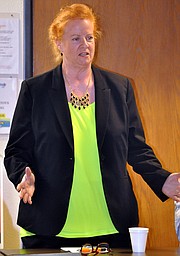 GOP candidates for Idaho County Commission and District 7 legislative positions attended a political forum in Grangeville Tuesday, April 19, one of three organized during the week -- including at Stites and Riggins -- by the Idaho County Republican Central Committee.
The following is a selection of questions and responses from the evening.
•
-
On how candidates set priorities?
Nuxoll said she works on issues noted by constituents, such as natural resources and local management control, but guiding her is "morality and faith. We need our youth to know what's right and wrong…. We need to educate them so they can be the most moral and virtuous people they can be."
"There's never enough time or money, so what do you do?" Crabtree said, so you set your priorities on what people are saying, which, he continued, are on jobs, education, issues involving public lands. "And now you have a target…. I don't set the priorities or the agenda. You do."
A questioner asked Crabtree on his reason for running and how his conservative stance compared with Nuxoll. He replied, "I'm not going to beat up on Sheryl," continuing he as those in attendance share many of her same concerns, but as well he wants to find ways to "broaden our scope" in additional areas of jobs, federal lands and education. Nuxoll commented on her conservative stance, noting her high rating, A-, by the Idaho Freedom Foundation's (IFF) 2016 Idaho Freedom Index, and she tries to vote for free market principles.
Conservative stance was a question asked of many candidates: Steneck said she is "more conservative [than Shepherd] on certain issues," noted her strong adherence to the constitution and opposes being tethered to federal funds, and opposed raising the gas tax: "I believe I have the heart of a street fighter," she said. Shepherd said, "I'm very pleased to have another conservative running," and referenced his IFF C-scoring as "we have different reasons for what we do … we don't always agree," as issues differ between rural and urban areas. Giddings said the IFF is a "great organization … that helps Idahoans understand what's going on in the legislature," but that also what it takes in that body is leadership and conservative values to move "concepts and ideas through to change the state."
Increases in vehicle registration fees was an issue raised to Shepherd, transportation committee vice chair, who in summary said this has been a three-year fight, and that the outcome was better than the alternative proposal that would have been "three times as much." While not in favor of tax increases, Giddings said she trusted Shepherd's opinion on the issue. Steneck opposed it, saying a percentage of the general fund "should have been set aside and we would not have had to do this." McMillan said, "I feel there are different ways to get the money. I voted for different ways through my no vote."
On issues they pursue, McMillan admitted, "I'm not a great speaker," that her work is in watching and listening, and working to give bills to those who have a chance to pass them. Steneck said Idaho should take advantage of California's minimum wage hike driving business out of the state to invite those companies here. Also, education, Steneck said, is hurt by loss of timber harvest income obstructed by environmentalists: "We need that money for education. We need to sue them." Shepherd noted one of the things he's learned in the legislature is even if you don't sponsor any bills, "you're still going to be swamped." One of his ongoing issues for the last three years is supporting small dredge miners against federal efforts that restrict or stop their businesses. These miners, according to Shepherd, "help make jobs, and this funds our small communities."
Commission candidates were asked on how extensive their involvement has been on issues of local concern, or if it has been more recent as a factor of their running for office. "I've breathed politics all my life," Frei said, saying, for example, when the state health exchange was an issue he "met with every legislator I could" on his concerns for conscientious objections to provisions for abortion and birth control. Chmelik noted his work since 2001 on multiple issues including the Snake River Basin Adjudication, natural resource use on public lands, and accountability in school district levies. Duman was involved on both county commission appointed task forces for both the Lochsa Land Exchange and solid waste. Bennett has been working full time, though he has been involved in the concerns with suction dredging miners.
•
-
Along with Tuesday's event, forums were held in Stites last Wednesday and Riggins last Thursday. Attendance at each was around 20 people.