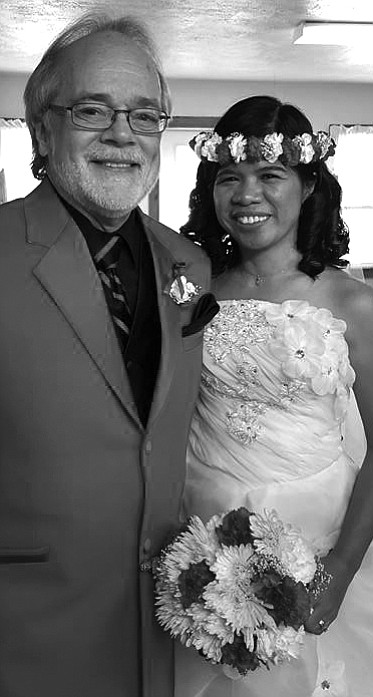 After a 10-1/2 year online relationship, longtime Grangeville resident, Jeffrie Bond and Maria Fe (pronounced Faye), a longtime school teacher from the Philippines, were married in the City Gates Church in Grangeville, Sunday, March 20, 2016.

Bond is and has been operations manager for Sandra Eimers' Companies for 16-1/2 years; Maria Fe hopes to extend her 13-year school teaching career locally in the near future; her post graduate studies are in special education.

Vows were exchanged at Grangeville's City Gates Church by minister Paul Baldwin, celebrated by close family members Norm Rice (bride's escort and ring bearer) and Bond's son, Sterling, who served as best man. Other important contributions to the wedding ceremony were by several members of the local Filipino community including Lorie and Dan Wilson (flowers, hair, decorations) and Kendra and Lolita Gillispie (makeup, decorations). Music was directed by Ken Lefsaker. Wedding cake was made by Denise Mager. Reception was held at The Gallery with the special host, Sue Kutner.

The couple plans a Las Vegas and Lake Tahoe honeymoon and will be living in Grangeville.