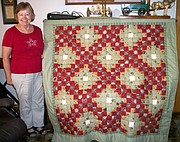 Pioneer Senior Citizens
No report received for the July 26 meeting. Menu for Aug. 9: Chinese stir-fry, spinach, Waldorf salad, J-ello and peaches.
3 Rivers Amateur Radio Club
Before the July meeting, two applicants took and passed the technician class examination. At the meeting, the recent Field Day exercise was discussed and a video of the exercise was shown. During the 24 hours, 219 other stations in 45 states were contacted. Results of the Cascadia Rising exercise were also discussed.
The club will be providing safety communications for the Kooskia Fun Run on Saturday, Aug. 6th. We will need eight to 10 operators to cover all the corners plus the start/finish and the last walker.
The next meeting will be Tuesday, Aug. 9, at the meeting room at the Kamiah KOA (former Lewis and Clark Resort) on U.S. Highway 12, two miles east of Kamiah at 6:30 p.m. License examinations will be given at 5:30 p.m.
Contact David Brainerd, 926-7886, for license test info. Contact Ken Tuning, 935-8888, for meeting and club information. The club website is at 3riversarc.com. The club repeater transmits on 146.620 MHz.
— David Brainerd
Crazy Critters 4-H Club
The Crazy Critters 4-H Club held their last meeting on July 19.
For old business, we discussed our recent fund-raisers with a good bake sale and doing the snack bar at the spring show. The spring show was June 11, and it was a great day with good clinics and judging experience for our members. Day camp has been cancelled due to low enrollment numbers. Our project leaders are scheduling more project meetings as needed. We finalized ideas for fair decorations.
Under New Business: This year we decided to donate to two local groups, giving $100 to each ARF and Grub Club. We also discussed record books and expectations. Project leaders will be available for completion and answering questions.
The next meeting will be Aug. 10 at 1 p.m. for making fair decorations and getting ready for fair. We will also meet Aug. 16 to decorate at the fair and turn in our record books
— Makenna York
Grangeville Senior Citizens
July 25: pledge, Stanley Modrell; prayer, Tom Helmick; free dinner drawing, Barbara Henderson; meals at site, 68, and home-delivery, 39 hot; Bingo winner, Mel Willis; blackout winner, Roberta Gibbs; July 29: pledge, Stanley Modrell; prayer, Shirley Crane; free dinner drawing, Phyllis Gilmore; meals at site, 79, and home delivery, 32 hot and 58 frozen.
Menus: Aug. 5 – macaroni and cheese/ham, green beans, salad greens/honey mustard dressing, watermelon;
Aug. 8 – meatloaf, steamed red potatoes, broccoli/cauliflower, pears.
More like this story