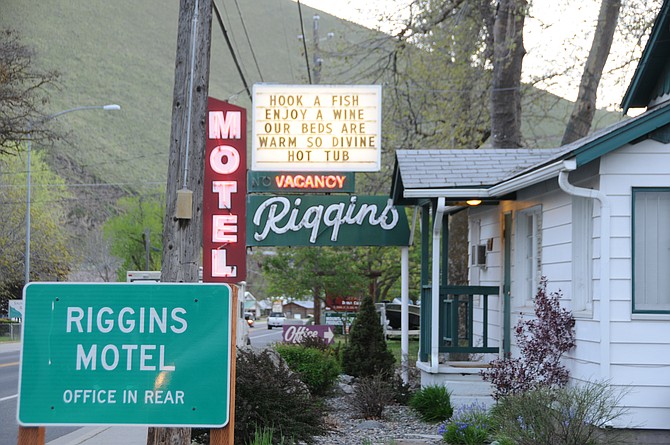 Photo by Lorie Palmer
The resort tax currently collects 2 percent on hotels and other temporary lodging.
Riggins City Council will host a public meeting at 6 p.m. Aug. 10 to review proposed fiscal year 2017 budgets and hear public comments prior to the deliberation and adoption. The city will also consider new and increased fees at the hearing in the council chambers, 126 North Main Street in Riggins.
The city is proposing a $4,857,033 FY17 budget, up 3.3 percent (or $163,457) from the current year at $4,693,576.
The city is proposing an increase in the following ambulance services: treat and release city resident from $45 to $50; treat and release county resident from $60 to $100; treat and release standard rate from $75 to $100; AED adult pads from $57 to $65; hot/cold packs from $5 to $10; occlusive dressings and triangular bandages from $1.50 to $5; and Epi-Pen from $199 to $300. A new fee of $5 is being proposed for an emesis bag.
Among the changes for the FY17 budget include: a 2 percent increase in the street fund, up $2,522 for a total $120,672; a $727 hike (2.6 percent) for the library's proposed $27,127 fund; a $45,034 jump (1.7 percent) for the sewer's proposed $2,514,512 fund; and 0.7 percent more ($6,097) for the water fund for a total $820,408. General fund and administration will go up 19.6 percent or $110,128, with no change in police funding at $15,000 and fire increasing 1.6 percent (or $6,851).
The budget proposal also includes a decrease by $1,711 (0.7 percent) to $228,202 in the park fund, and a $6,191 drop (4.1 percent) in the sanitation fund.
The budget includes the standard 3 percent increase in property tax revenue allowable by law. It also reflects some property tax relief, City Clerk Brenda Tilley said, because of the resort tax collected in 2015. The city had budgeted $60,000 in that fiscal year and there was an overage of $7,644.
Tilley said the resort tax comes up for election this fall in November, as it has to be voted on every 10 years. Currently there is a 2 percent tax on temporary lodging, hotels including RV camps, restaurants and alcohol by the drink.
The city council is discussing what, if anything, needs to be added to the resort tax. Tilley said talks have included adding a tax to packaged alcohol sales, among other items.
A public meeting was held on Friday, July 29, and another is planned for Aug. 10 prior to the city council meeting. Another special meeting is planned for Aug. 23 to finalize language for the ballot.
Riggins has proposed no increases in utility fees for the 2017 fiscal year, Tilley said.
Area budgets include:
•Cottonwood City Council met in a special budget workshop meeting Monday, July 25 in the Cottonwood Community Hall. The city will release information at a later date.
•Ferdinand is just beginning to put together its budget. The council plans to address a proposal at its Aug. 9 meeting.
•The first reading of the Kooskia City Council budget to consider for adoption will be at 6 p.m. Aug. 10 at city hall. The proposed budget was printed in the July 27 edition of the Free Press.
•Information on the FY17 budget from the City of Stites was not available at press time.
•White Bird will host a budget hearing on Thursday, Aug. 25. No other information is available at this time.
Budgets are open to public inspection prior to the meetings by contacting the respective city halls: 962-3231, Cottonwood; 962-5640, Ferdinand; 926-4684, Kooskia; 628-3394, Riggins; Stites, 926-7121; and 839-2294, White Bird.