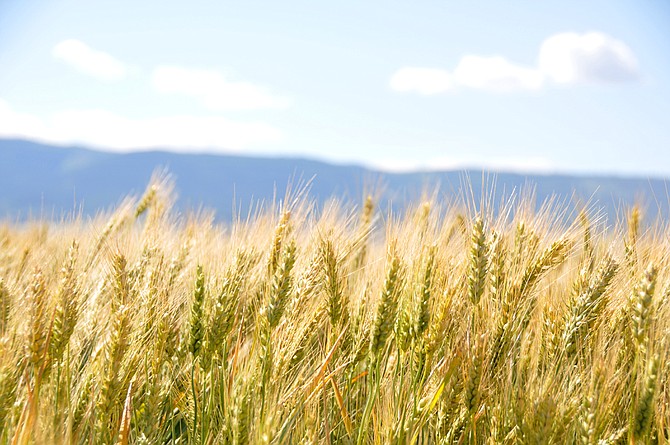 Photo by Laurie Chapman
A field of wheat waits for harvest just northwest of Grangeville east of Powerline Road.
GRANGEVILLE — Idaho County farmers who were frustrated at the already poor wheat markets are now shaking their heads in dismay over further losses.
Early indications on Tuesday, Aug. 2, showed there were isolated cases of falling numbers. However, Columbia Grain manager Brian Lorentz said as more wheat rolled into the elevators Tuesday afternoon and Wednesday morning, a clearer picture was revealed.
"Now we're seeing widespread poor falling numbers," he said. "The majority of what we've seen now has poor falling numbers."
This will have a significant impact on area farmer's pocketbooks. Lorentz noted he is seeing best-case scenario losses of 25 cents per bushel and worst-case at $1 per bushel.
To test for falling numbers, grain samples are ground to a flour and mixed with distilled water in a test tube. This mixture is shaken vigorously to obtain a homogeneous suspension and the tube is inserted into a bath of boiling water. A stirrer is then inserted and the time for the stirrer to drop to the bottom is measured. The time measured in seconds is the falling number.
A low falling number indicates presence of an enzyme that degrades starch and diminishes the quality of wheat products. Falling numbers below 300 typically receive a discount in the Pacific Northwest.
Conrad Arnzen of Greencreek expressed his concern over the falling numbers as he worked on a broken pulley Aug. 3.
"It's usually an issue when we have a lot of rain in harvest," he said. "We haven't had rain in three weeks."
The Portland Grain Report for Thursday, Aug. 4, shows numbers for soft white wheat relatively unchanged from Tuesday at $4.68 to $4.90 per bushel. Grain with falling numbers will pull between $3.68 and $4.65 per bushel.
Hard red winter wheat was reported at $4.85 to $5.05 and dark northern spring was $5.73 to $5.83. White club wheat was reported at $4.68 to $4.90. For more information on market reports, visit www.ams.usda.gov/mnreports/jo_gr110.txt.