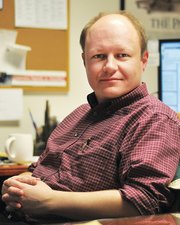 The nation nears its decision for the next President, but this region's residents have the opportunity for their voices to be heard in a choice that will impact them far more intimately in their everyday lives: the position of magistrate judge.
Come January 2017, Lewis County Magistrate Stephen Calhoun will be retiring, and nine applicants are in the running for the position. The Magistrates Commission of the Second Judicial District will soon be reviewing comments on the applicants solicited from attorneys statewide, as well as comments provided by the public.
Comments are due to the commission by Aug. 26, and forms are available at county courthouses as well as on the Second Judicial District website: sjdc.isc.idaho.gov .
So is this a big deal? Definitely so. The magistrate judge handles much of the everyday legal load such as small claims cases, divorces, and child custody and protection actions, as well as misdemeanors. In Fiscal Year 2015, the Second Judicial District, Magistrate Division, reported a total 24,107 case filings, in comparison to 1,198 in District Court. The magistrate is also the first step for felony cases where determination (think gatekeeper) is made on sufficient evidence to have them bound over to district court or to be dismissed.
Many of us have not stepped up before the district judge on a legal matter, but you likely know more than one person, even yourself (ever gone to court for a traffic ticket?), who has been to the magistrate on a matter of procedure or dispute. Having someone with professional temperament and judgment, experience in trial and other court procedures, and an ethical and fair reputation will all be essential factors for this position.
As important as the comments will be from the legal community on the ability of these applicants to serve in the position, no less important is your comment on how well your professional needs have been served in your dealings with these men and women.
To put this in consumer terms: How was your experience? Would you return to them for more services? Would you recommend them to others?
While the public has an opportunity every four years to vote on whether to retain a sitting magistrate, this selection process offers voice into determination of whom will be put behind the bench. We're not extensively familiar with several on the applicants' list; however, four are attorneys practicing within the North Central Idaho area – Daren Fales, Lori Gilmore, Victoria Olds, Zachary Pall – who grab our favorable attention as having familiarity with the region's residents and their issues; yet another factor to consider in the selection.