ELK CITY — Healing and hope, two themes fitting for the year Elk City has had following the landslide, will be presented in a program honoring veterans by Linda Lanier. Lanier of Darby, Mont., will perform at 5 p.m. Saturday, Aug. 13, at the Elk City School gymnasium.
Elk City Days "Surviving the Slide" will be hosted Friday, Aug. 12 and Saturday, Aug. 13.
•-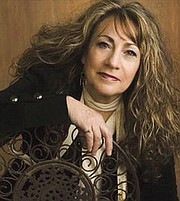 "I'm there to lift our veterans up," Lanier said by phone.
She mentioned how honored she felt hearing how one particular Vietnam veteran reacted to a performance she gave in Oregon. For the first time, he opened up to his wife and released long pent-up memories of his service.
"That's what it's about – the healing," she said.
She said the presentation recognizes veterans, as well as law enforcement and members of fire departments. However, the primary focus is on the veterans, including a presentation of a flag to a World War II veteran. The Boise Marine Corps Honor Guard will participate in the gifting ceremony.
"Without our veterans we wouldn't have the freedoms to do this," she said. "We can't let them go unrecognized."
Lanier is a national and international recording artist who is no stranger to military service. Her father served in the Army during WWII and her husband and his father are Navy veterans. Her son, Cody, served in the Coast Guard.

Her appreciation for men in uniform extends beyond the military through her connections to law enforcement. Her mother was an officer at a prison camp in Utah and her son, Cody, is a police officer in Colorado. Cody was one of the first responders to the shooting at the Century 16 Movie Theater in Aurora, Colo., on July 20, 2012, that killed 12 individuals and injured 70.
Lanier's presentation will be followed at 9 p.m. by Johnny and the Moondogs performing at the VFW.
---
---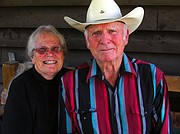 Schedule of events
Other events include the kids' parade at 5 p.m. Friday night, as well as the main parade at 11 a.m. Saturday, both on Main Street. The Forest Service will take on the Town Folks in a baseball game at the Elk City School ball field at 6 p.m. Friday night. A logging show and contest is planned for 1 p.m. Saturday at the VFW parking lot.
A live auction and raffle drawing is scheduled for Saturday afternoon at the VFW post. Auction starts at 3 p.m. and raffle drawing is planned for 4 p.m. Raffle items at the event include a CVA .50 caliber muzzleloader and a quilt.
A quilt show can be viewed at the LaMar Johnson residence across the street from the post office.
There will be plenty of food options throughout the Elk City Days event. The Elk City Area Alliance (ECAA) and the fire department will offer food concessions from 4 to 7 p.m. on Friday and 9 a.m. to 6 p.m. Saturday. The VFW Auxiliary will sponsor a breakfast from 7 to 10:30 a.m. Saturday at the post. A donation of $7 or more is requested. The VFW also will host a hamburger stand which from noon to 6 p.m. Saturday at the VFW hall.