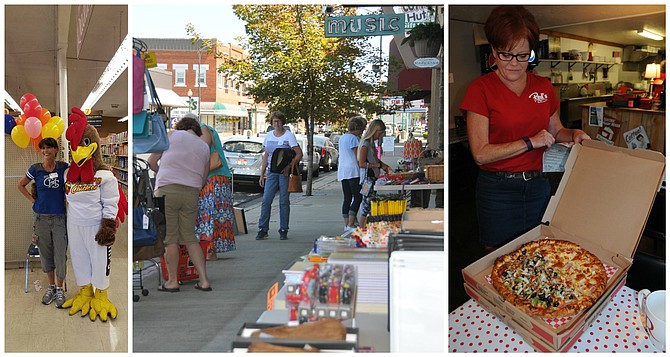 Photo by Lorie Palmer
(L-R) Facebook photo: Champ the Chicken made his (or her?) debut at Asker's Harvest Foods in Grangeville last weekend during Crazy Days. Here, store employee Shauna Simonsen poses with Champ the deli chicken mascot; Free Press / Laurie Chapman: Shoppers were going loco for sales at Grangeville's Annual Crazy Days celebration last week, Aug. 5 and 6. Here. shopper's pick out the wares at Irwin Drug on Main Street; and Free Press / Lorie Palmer: Idaho County Free Press and Shopper staffers were treated to pizza from Red's River Cafe in White Bird last Wednesday, Aug. 3. Here, owner Wendy Kunkel boxes the pizza.  Red's is located at 105 River Street. To order call 839-9977. Check out the Red's Facebook page for details.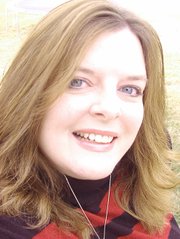 U.S. Agriculture Secretary Tom Vilsack signed a proclamation declaring Aug. 7-13, as "National Farmers' Market Week." This year marks the 17th annual National Farmers' Market Week to honor and celebrate the important role that farmers' markets play in local economies.
Supporting farmers' markets is a part of the USDA's Know Your Farmer, Know Your Food (KYF2) Initiative, which coordinates the department's work to develop strong local and regional food systems. USDA is committed to helping farmers, ranchers, and businesses access the growing market for local and regional foods, which was valued at $12 billion in 2014 according to industry estimates.

Don't forget about our local farmers' markets that are held in Grangeville, Kamiah and Riggins. Support your locals and feel good about your neighbors growing the food you are eating!
•
 Partnership for Healthy Communities will offer free health screenings this Friday, Aug. 13, at Riggins City Hall from 10 a.m. to 3 p.m.
•
It's difficult to believe but the new school year is gearing up to start. Local supply lists are in stores, on-line or on Facebook and businesses in our community have stocked up on many of the items students need. Check out the stores for supplies and remember these hometown businesses are the ones that support our kids during the sports seasons and beyond.
•
Loren C. Miller, DC, DACO, has opened A Quality Life Health Center on Grangeville's Main Street (adjacent to Groaners Gym). Miller is offering chiropractic and spinal pain care. Stop in at 505 West Main Street or call 820-4148.
•
Lester Wahl of the Nezperce area is offering a variety of defensible fire space services through his business Specialized Property Services. He includes hazardous fuels and tree removal, property enhancement and seeding, wildfire buffer zones, home site excavation and development, and fence/property line cleaning. Something to think about during fire season and all year through. Call 553-8390 or e-mail lwahl96@gmail.com.
•
Get items ready to enter in the Idaho County Fair next week! You can enter Tuesday, Aug. 16, 6 to 8 p.m., or Wednesday, Aug. 17, 9 to 11 a.m., for open class items. Check out the updated schedule of events for the fair in this week's Shopper and the Free Press.