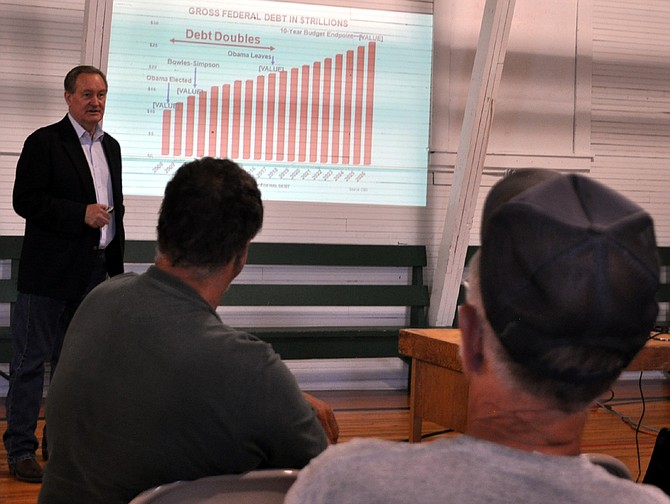 Photo by David Rauzi
Twelve people attended an Aug. 3 town hall meeting in Ferdinand, hosted by Senator Mike Crapo. Here he elaborates on historic and projected debt growth.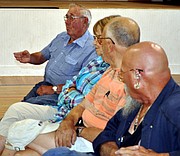 FERDINAND — "The most significant threat to our national security is our debt."
More than five years ago, then chairman of the Joint Chiefs of Staff, Adm. Mike Mullen, gave that response to a reporter's inquiry to what was the greatest U.S. security threat.
It's a mantra Senator Mike Crapo holds fast to in summarizing the crisis nature of the national debt issue, which has only grown in the half decade since those words were spoken and to which any resolution still awaits on the political will for direct action.
"The threat our national debt poses to what we call the American dream is powerful," Senator Crapo said to 12 people attending a town meeting at the Ferdinand Community Hall last Wednesday afternoon, Aug. 3. Debt reached its height in 2009, $1.4 trillion, an 800 percent increase from the two years prior, and since then deficits have decreased by 69 percent in the past seven years. Republicans and Democrats fight over who gets the blame and the credit in these ups and downs, but regardless, Crapo said, "still we have an issue."
This year, the U.S. will pay $250 billion in interest on the national debt. Deficits are projected to rise, he said, reaching near the 2009 mark within 10 years, but in less time, 2023, interest payments as part of the total federal budget will for the first time be higher than spending levels for both the defense and non-defense budgets. However, Crapo then referred to a project chart saying levels of defense and non-defense spending were inaccurate, that this growing interest in the debt will force spending reductions in these areas. "And that's what [Mullen] was talking about," Crapo said.
Currently, Crapo said, Congress is arguing about $18 billion in additional defense spending, which the Democrat Party agrees with but only if this same amount is also put into non-defense spending, which would put the budget off the fiscal path. "And right here," Crapo said, of this year's interest payment, "sits $250 billion we don't have for defense or non-defense."
Putting the debt in personal terms, Crapo said this works out to more than $60,000 per person. Addressing some debt solutions in discussion, he discussed options in reforming the tax code – simplifying it, eliminating exemptions, credits and reductions – to make the U.S. more competitive globally, reducing overlap of federal programs ("that would save $200 billion a year," he said), and also opening every aspect of federal spending to evaluation.
"The chance of reform is pretty high," he said. "But the chance of reform being the right kind is 50/50."
•
As part of his 20-minute talk, prior to taking questions, Crapo also discussed the growing number of federal regulations — 21,000 new rules in place with another 3,415 being proposed — that cost private business millions and is resulting in a "phenomenal explosion of intrusion on freedoms." An example, Crapo said Idaho lost 30 percent of its community banks in the last two years due to being unable to keep in compliance regulations, and these businesses were merged into or bought up by larger institutions.
Regarding the regulatory agencies, Crapo explained Congress in creating these gave its authority to the executive branch to write regulations that makes it unconstitutional at the Congressional level to reject these rules. A bill is currently in play to return that authority to Congress, he said.