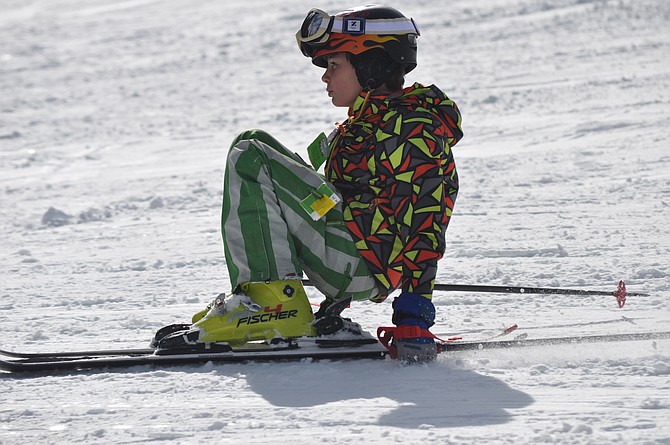 Photo by David Rauzi
A student makes a cautious attempt at skiing at Snowhaven this February during Snowhaven School Day.
GRANGEVILLE — Winter sports may not be on your agenda, but the upcoming season is already on the minds for planners with Snowhaven Ski Area.
The city-owned facility heads into the 2016-17 season after a good snow year that left the hill in the black for the first time in a few years: $3,326, according to operations manager Scott Wasem. To put this in perspective, "We started the year with a negative $24,000," he said. This was helped with good snow levels early in the year and cool temperatures that kept it around, "and we had an excellent Christmas," he said, with a Dec. 26 one-day record-breaking $10,283 revenue.
For the 2016-17 season, the hill operated 33 days, raising $121,132.24 in revenue and incurring expenditures of $90,885.44. Last year's season with low precipitation levels was not just a bad year for ag producers and wildfire, Snowhaven was impacted with a later start and warm temperatures that impacted the runs, resulting in a significant revenue drop: $61,823.30, a 44 percent decrease from the year prior.
"Snowhaven is not city-supported," Wasem clarified; season deficits are covered by the city that the hill will in turn repay. Ending a year in the black allows breathing room for capital investments and needed upgrades/repairs.
This upcoming season, donors stepped up to fill needed gaps, according to Wasem. The Grangeville Lions Club provided a cargo container, a $3,000 value, that will serve as the operations shack, or "crow's nest," at the top of the hill. Toby Willy (son of locals Richard and Judy Willy) owner of Edge Rescue in Portland, Ore., donated an emergency rescue toboggan to the Snowhaven Ski Patrol.
"We really appreciate all the support for the ski course," Wasem said. Donations of money, time and materials allow the hill to devote more of its limited revenue back into the program.
As for Wasem, this upcoming season will be his last as he plans to retire, turning over the manager mantle to Thain Hoiland, whom he has been mentoring for the past year and a half.
"This has become a passion more than a job, and he [Hoiland] gets it," Wasem said. It's about making something better, making the community better and taking pride in what you're doing."
When Wasem took over in 1999, he had a crew of three, and with changes at the facility – notably the addition of the tubing hill in 2004, Snowhaven currently employs a 24-person seasonal workforce.
For both he and his wife, Audrey, Wasem said "We've had a good run. It has been hard work, definitely," but the job has been made better by the support the hill has received from the community, and from the good crew that returns year after year.
"We've been fortunate," he said.