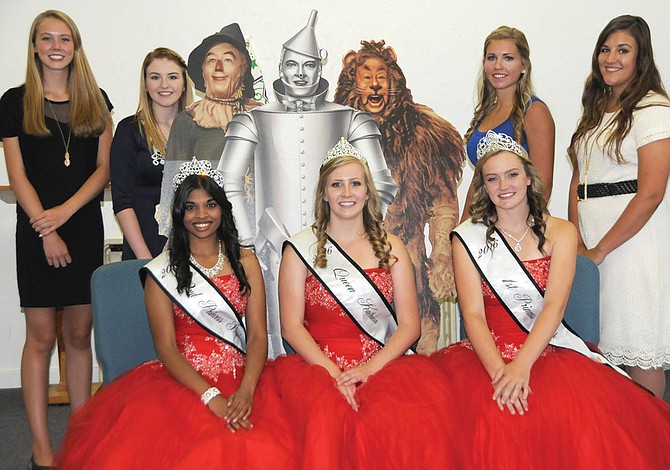 Photo by Lorie Palmer
Pictured are (back, L-R) Idaho County Fair candidates Kally Arnzen, Tiffany Sonnen, Wizard of Oz friends, Chaye Uptmor and Selena Davila and (front, L-R) 2nd princess Davi Murphy, queen Katrina Frei and 1st princess Rachel Kelley. The girls were all at the Idaho County Fair Royalty Luncheon Aug. 9.
GRANGEVILLE — "Remember, no matter what the outcome, you are not defined by a crown and a title," Idaho County Fair Queen Katrina Frei said Aug. 9. "Always grow as a person and make yourself better. That makes you royalty."
Frei spoke to the four candidates for fair royalty at the royalty luncheon held at the Grangeville Church of the Nazarene. She and 1st princess Rachel Kelley and 2nd princess Davi Murphy, along with their mothers and royalty advisor Karla Enneking, hosted the luncheon , which included public speeches and private interviews with three judges.
Candidate Kally Arnzen of Grangeville, Grangeville High School junior, used a feed sack with photos to "stitch" her story.
"One of my best fair memories is of my grandfather, Hank Arnzen, who passed away this year," she said, showing a photo of him in the sack-sewing contest at the fair. "He was good at the chore and it came in handy during his days on the farm."
She went on to explain how she has never missed a fair and started in 4-H as a Cloverbud at the age of 6 when she took a rabbit project.
"Tradition is a big part of my fair experience, and I am in the same 4-H Club, Lively Livestock, as many of my family members have been in throughout the years," she said. Arnzen stitched up her feed sack finishing with, "I would love to uphold the traditions of the fair not only for my own family, but other families as well."
Queen hopeful Selena Davila of Cottonwood, a senior at Prairie High School , summed up her hopes for royalty using her years of experience as a 4-H and FFA member.
"I would love to represent Idaho County and its amazing people," she said. During her time in 4-H and FFA, Davila said she has learned "more lessons than even imaginable." She also said she enjoys the fact that the fair is one of the county's few community events in which nearly everyone can or does become involved in some way.
Candidate Tiffany Sonnen of Greencreek, a senior at Prairie High, explained how she was adopted into her family — "but it's just where I belonged all along," she said.
She said just as her family was welcoming to her, Idaho County is welcoming to people and she feels the need for people in the county to get to know one another better.
"There are so many great people here in Idaho County," she said. "A couple of those people are my bosses, Ron and Debbie Schnider and The Hangout."
She explained the Schniders are very selfless and each year support the YWCA Purse Auction to help victims of domestic violence.
Contestant Chaye Uptmor of Keuterville, a senior at Prairie, arranged a bouquet of flowers in a vase while speaking about Idaho County and what and who makes the fair run.
"This vase represents the 16,267 square miles of our county," she said. "You know that saying 'it takes a village?' It's true."
She went on to use greenery, wheat and flowers to build her bouquet as each represented fair supporters: The wheat stood for the 22 inches of rainfall the county receives each year and the farmers who work the land and provide food; various flowers represented the Idaho County Commissioners, the 4-H groups, the University of Idaho Extension agents and staff, the Ambassadors, royalty and the fair board.
At the end she presented her parents with the vase in honor their support and dedication to her.
"I have come to learn that royalty is more than that crown or title – it's a lifestyle," Frei added. "The positive way you try, act, compromise and work to improve makes you royalty."
Each current royalty member also gave her speech at the event; these will also be given at the fair royalty crowning night Friday. Aug. 19, 7:30 p.m.