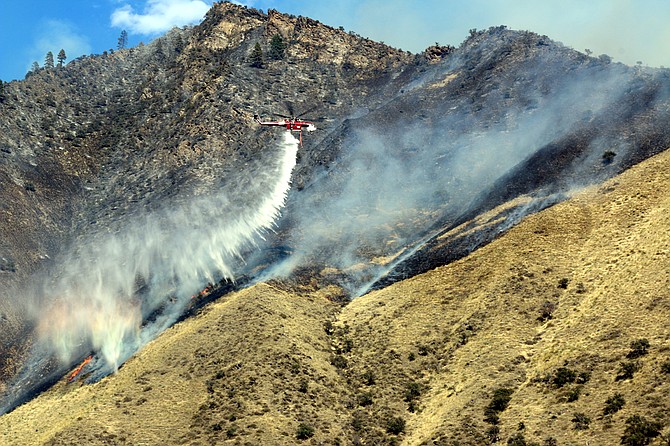 Robert Hugi
A Skycrane helicopter water dump pictured last Thursday, Aug. 18, on the Gun Club Fire at Riggins.
RIGGINS — During the Idaho County Commission meeting Tuesday morning, Aug. 23, commission chairman Jim Chmelik said the Gun Club Fire started when tracer rounds were fired by "a couple of people who were members of the gun club" who, he said, "did step up and say 'we did it.'"
"They didn't try to hide it or anything," Chmelik said, "but they might as well have just gone down there with bottle rockets."
Chmelik did not name those involved, and, officially, the cause of the Aug. 17 fire remained under investigation by the Forest Service. According to the Idaho County Sheriff's Office, no criminal charges have been filed in what appears to have been an accident. ICSO assisted the Forest Service, which local law enforcement said is the lead agency on the investigation.
An incident management team that came on to contain the fire will turn command back to the Nez Perce-Clearwater National Forests at 6 p.m. Aug. 24, today.
Located east of the Salmon River, two miles north of Riggins, the fire was listed as 63 percent contained, having consumed 2,084 acres as of 8 a.m. on Tuesday, Aug. 23. One injury was listed as minor on the incident information system website Inciweb.org, which noted the burned area consisted of 1,961 acres of private ground and 123 acres under the Bureau of Land Management. No structures were listed lost.
On Tuesday, firefighters under the IMT's direction were set to patrol firelines, mop up hot spots and monitor the fire perimeter. Helicopters continued to drop water to assist firefighters to keep the fire within the fire perimeter. On the northern flank, crews continued mopup along the existing line. The eastern flank is considered contained and was monitored for any hot spots.
Tuesday's work focused on mopup and securing along the northern and southern flanks and monitoring on the eastern side. An area closure that includes trail 82, a portion of trail 136, a portion of trail 118 and Forest Service Road 263 remained in effect.
•
UPDATE, Thursday, Aug. 25
The Gun Club fire is located east side of the Salmon River and is visible from the community of Riggins. Leach's Type 2 Incident Management Team transferred command of the fire back to the Salmon River Ranger District and the direction of Chris Hertel's and Matt Myers Type 3 team yesterday evening.
Gun Club Fire - Fire Update - August 25, 2016
Detected: August 17, 2016, 8:45 p.m. Containment: 95% Current Estimated Size: 2,084 Acres
Resources: 80 personnel including - 3 Crews, 1 Dozer, 2 Engines, 1 helicopter
Cooperating Agencies: Bureau of Land Management, Idaho Department of Lands, Idaho County Sheriff's Office, Idaho Department of Transportation
Yesterday crews continued to mopup and secure lines along the northern flank with monitoring on the rest of the fire. Crews also worked on rehabilitation of firelines.
Today crews will continue to monitor and mopup firelines along the perimeter. Rehabilitation of firelines will continue as needed.
Road traffic along Highway 95 and County Road 1614 (Salmon River Rd) is encouraged to keep moving and not stop along the shoulders of the road to minimize risk associated with fire traffic. Also, visitors may meet logging traffic as activity in the vicinity is expected to increase.
Closures: The area closure has been rescinded. Trail 82, the portion of trail 136, the portion of trail 118, and FS Road 263 are now open.
This will be the last update for the Gun Club fire unless there is a significant increase in fire activity.
---
•
---
---
Current information is available online at inciweb.nwcg.gov/incident/4969.