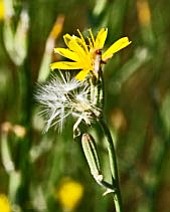 Idaho noxious weed experts have placed Rush skeletonweed near the top of their list of priority weeds to eradicate and are asking Idahoans for their help in attacking this highly invasive weed that has infested more than a million acres of Idaho's land.
"Idaho has been fighting a battle against this aggressive weed for decades now and has barely been able to slow down its spread. Weed superintendents and other experts in the field are hoping that citizens will pitch in to attack this noxious invader," said Roger Batt, Idaho Weed Awareness Campaign.
About Rush Skeletonweed
Rush skeletonweed is one of Idaho's 66 listed noxious weeds that have infested 8-million acres of Idaho's lands, causing an estimated $300 million annually in direct damages. State and private landowners spend upwards of $30 million a year to combat noxious weeds.
Rush skeletonweed is a perennial whose branched stems may be 4 feet tall and appear leafless. The lower 4 to 6 inches of the stems are covered with coarse red-brown hairs. The dandelion-like rosettes, which form in the fall, die as the plant ages. When the plant is cut or broken, it oozes a milky white latex sap. It has yellow, flowering heads that are found scattered on the branches. The small yellow flowers begin in early summer and continue until frost in the fall. Each seed has a parachute of fine hairs (resembling a small dandelion seed) which allow it to occasionally travel up to 30 miles in the wind.
Rush skeletonweed thrives in well-drained, sandy textured or rocky soils, along roadsides, in rangelands, pastures and in remote areas of the state. It forms dense stands that crowd out desirable vegetation forcing wildlife and other grazing animals to move to other areas.
Although biological control is available for this plant it is not as effective as using the proper herbicide for chemical control. Herbicides such as Milestone, Perspective, Tordon 22K, and Transline are available for use on this invasive plant.