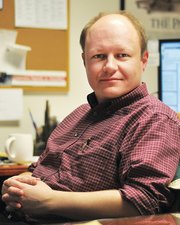 Readers on this letters page will be informed that the Idaho County Democrats' booth was vandalized during the Idaho County Fair. Of course, it wasn't you who did this. This was the work of dumb, or perhaps both dumb and dumber, acting out the only kind of political discourse he or they were able to do: graffiti and demolition. Perhaps they celebrated their triumph later by shooting out power pole insulators.
Likely some thoughtless kids? Yes. Politically motivated? Highly doubt it. But this weekend's vandalism should give us pause as how we as adults have been conducting our political talk this election year.
Perhaps we're frustrated at the choices we've been left with, the information blackout on other political parties, our astonishment with our neighbors who fail to see how utterly flawed the opposition's candidate is, and the cynicism that regardless of who sits in the White House come January 2017 it will still be "monkey-business as usual."
Just the presidential level decision alone is no question a hand-wringer for many, and that at its close will be a jaw-dropping finish for a sizeable voting block.
But how have we been conducting that debate within our communities? More than likely it has not been civil toward either Hillary or Donald, or perhaps both.
Let's be honest: That's counterproductive, it adds ugliness to our social discourse, and it contributes to anti-social behavior none of us would be proud of.
Be critical, hold to convictions and keep to facts and not social media gossip. But also, let's watch what we say and have the conviction to hold others to be civil … the kind of simple stuff we learned that first day in kindergarten. And let's also reflect that whoever gets the White House is still not as relevant as this:
We'll still be neighbors come January 2017, and we'll still need to be working together if we want solutions to the problems and issues of local, county and state interest.