Document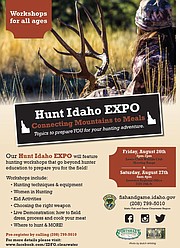 Football season opens Friday at Moscow
GRANGEVILLE — Football season will open at 7 p.m. this Friday night, Aug. 26 at Moscow. Grangeville's home opener will be Sept. 9 against Clarkston.
Volleyball opens at Kendrick Thursday, home opener Sept. 1
GRANGEVILLE — GHS volleyball will play the first official matches of the season Aug. 25 at Kendrick, in a trianuglar with Kendrick and CV. GHS will visit Logos Aug. 27.
Grangeville's home opener will be Sept. 1 against McCall, with the C team taking the court at 4 p.m., the JV to follow and the varsity later that evening.
Soccer squad to meet Intermountain foes halfway, at Orofino
The GHS soccer squad has a couple of road games at Orofino coming up, with a contest at 2:30 p.m. Aug. 25 against Timberlake and one against the Maniacs at 6 p.m. Aug. 30 at OHS.
St. Maries, Orofino, Bonners Ferry, Priest River and Timberlake affiliate as the Intermountain League, which Grangeville's new soccer program aims to join.
2016 KYRO youth football, cheer sign-ups set
KOOKSIA — Youth football and cheerleading sign-ups will be held Thursday, Aug. 25, at Clearwater Valley Elementary School.
Practices begin the end of August and the season will finish up in mid-October. Teams will practice 4-5 days a week at either the elementary or high school.
Programs offered are: grades 3-4 tackle football ($55), grades 5-6 tackle football ($55), and K-6 cheerleading ($30). Coaches are needed for each program.
Contact Mike Dominguez, 926-0906.
GEMS football, Lions Youth Football start this week
GRANGEVILLE — GEMS Football Parent Meeting and Sign-Ups will take place 5:30-6 p.m. Aug. 24 in the Community Room at Grangeville Elementary Middle School. The GEMS team is open to seventh and eighth graders attending GEMS.
Grangeville Lions Youth Football League gear will be handed out on Aug. 25. This team is open to all fifth and sixth graders. Contact Todd Marek at 983-2100 or Jonico Charley at 507-0591.
[Note: Incorrect information was previously included in the sports briefs due to a Free Press error. We regret the error. -ao]
Fall hunter ed class starts soon
The first — and possibly only — official fall hunter education and gun safety course is set to run Aug. 29-Sept. 10, with class size limited to 25.
Sessions will run 6-8 p.m. at the Grangeville Elks Lodge basement. The classroom is accessible through the alley between the lodge and Cash & Carry Foods.
"It's important for participants to be on time," volunteer instructor Kevin Asker said. "Being late will have negative consequences."
Parents of minors need to attend the first class.
Online preregistration is required, through the Idaho Fish and Game website,
fishandgame.idaho.gov/public/
education.
The course is a must-have for hunters born on or after Jan. 1, 1975.
Contact the IDFG Clearwater Region office, 799-5010, with questions.