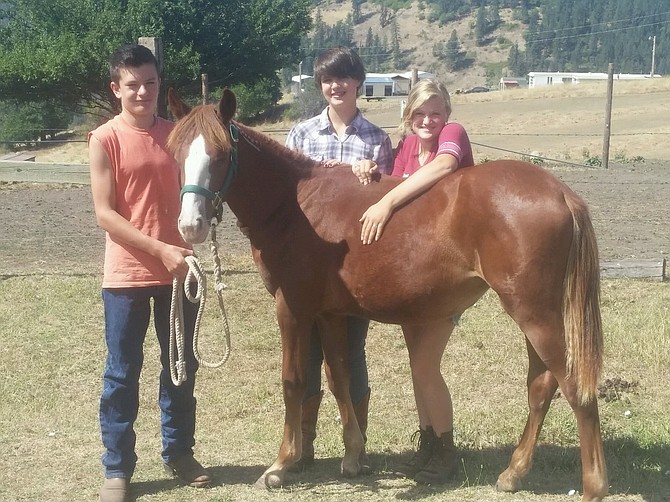 HARPSTER — Three members of the Lively Livestock 4-H Club participated in a summer 4-H project they will not soon forget.
"I guess it was my passion to have the experience of training a mustang that began the journey," smiled Stacy Van Steenwyk. She has been the club's horse 4-H leader for the past two years.
Through University of Idaho Extension in cooperation with the Bureau of Land Management, club members Molly Van Steenwyk, Aidan Acton and Alleyna Edmondson trained an 11-month-old mustang, Knicki, for six weeks.
"We picked her up in Kuna and brought her to our place in Harpster," Stacy said. Her 15-year-old daughter, Molly, spent a lot of hours with the horse and Acton and Edmondson spent time as they were able to.
"Of course we had a little more time since she lived with us," smiled Molly, who said she didn't mind the extra time one bit.
Named after the Knicki plant native to the Black Mountains in Southern Idaho where the Mustang came from, the club members called her "Nicki" for short.
"It was a wonderful experience to be able to train her," mother and daughter agreed.
The weekend of Aug. 27, members took Knicki to the Western Idaho Fair in Boise where she was adopted by a family. Before she found her new home she competed in a wild mustang trail class with other horses and received a first-place trophy.
"The story has a happy ending all the way around," Stacy said.