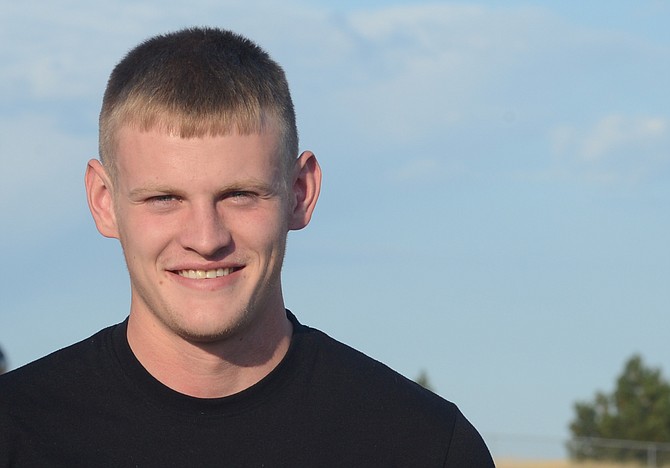 Photo by Andrew Ottoson
Jake Bruner is headed to College of Idaho in Caldwell to play basketball and for pre-med studies, having won essentially everything there is to win in 1A high school sports.
COTTONWOOD — One of the area's most decorated football players, Jake Bruner, is off to College of Idaho to play basketball this fall.
In a small way, it's a consequence of a friendship between two of the area's leading high school sports families.
Former Kamiah athletic director Todd Nygaard connected Bruner's dad, Teel, to the Idaho Select basketball team, which informally overlaps with College of Idaho by way of a coaching connection. The Nygaard kids grew up in the Kamiah schools, and more recently, Todd and his wife Carrie have become fixtures at Prairie.
"He told my dad about it when I was an eighth grader and I tried out for the team," Jake Bruner said. "I made the team and got to play with the Select team the last four years."
College of Idaho started recruiting him during the spring of his junior year, and last week, he headed for Caldwell on a combination of athletic and academic scholarships he said will cover more than half of his college expenses.
"I went down this summer and worked a couple of basketball camps for the kids and did a team camp, so I got to meet my teammates and my roommates," he said. "They all seem like pretty good guys, pretty nice."
Locally, Bruner's matchup against Grant Wallace stood out last season, and he also noted a Grangeville grad: "Austin Parks is the only player I played against all four years of high school," Bruner said. "He was always a good competitor."
Bruner's study routine was "tough sometimes," he said. "You'd have a late game at Potlatch and you'd get home and then you have to get your books out and do it, even if it was 11 at night."
He thought back to two-a-days his freshman year — and to the state titles Prairie won during his time.
"It's was tough at 6 a.m. to get your legs moving," he said. "I'd say getting to be around my teammates all the time, building great relationships with the people in this community, that's the best thing about playing sports."
Playing for his dad was challenging — not only for him, but perhaps especially for him as the coach's son.
"I liked it," he said. "It helped me, I think, because I had to think about basketball and football 24/7. We'd talk about it all the time at home. He was harder on me than other kids, probably, but I think it just made me better and want to compete harder."
His dad was by no means his only coach, and Bruner held out a thankful thought toward all of them.
"All the coaches we've had around here have helped me," he said. "Ryan Hasselstrom for example, he didn't coach me in basketball, but all the coaches I've had here at Prairie have taught me a lot. How to be a great competitor, and be humble, and work really hard."
That has been strong preparation, not only for playing sports at the next level, but also as far as his studies. History was a favorite subject — Bruner credited Travis Mader for that — but his career interest is in medicine.
"I'm going to try to go pre-med," he said. "I'm going to major in biology. My dad's a doctor, my mom's a pharmacist, and so I've just kind of been around that — the medical field — for a really long time, all my life. It got me interested, and I like it."