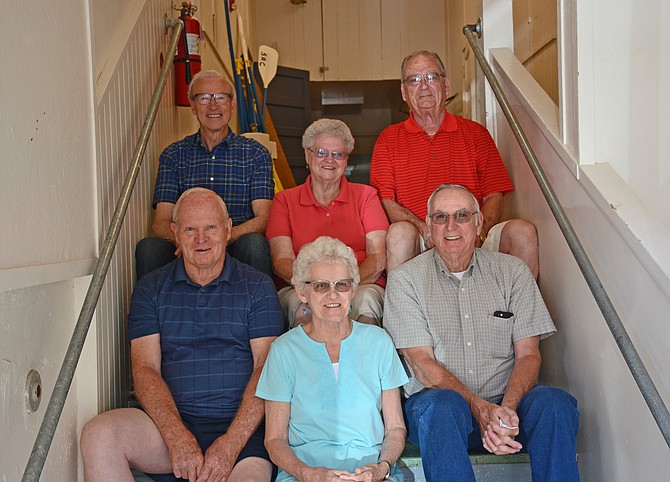 RIGGINS — RIGGINS — My Sweet '16 quote for this week is "The most valuable asset is not a head full of knowledge, but a heart full of love with an ear ready to listen and a hand willing to help."
Salmon River High School begins at 7:56 and Riggins Elementary School begins at 8:08 a.m. this year. The new school year 2016-17 started yesterday, Tuesday, Aug. 30.
Salmon River High School Football home games will be Prairie Sept. 9, Lapwai Sept. 23, Council Oct. 14, and Cascade Oct. 28 at New Meadows for a homecoming game for New Meadows. Volleyball home games will be Sept. 9, Cascade, Sept. 27 Council, and Oct. 4 Meadows Valley. Be sure to get to the games and cheer on our Savages and Lady Savages. Get your complete football and volleyball schedules at the SRHS office. Salmon River Middle School home games will be Sept. 22, with Cascade at 5 p.m., and Sept. 29, at 5 p.m., with Council. Away games are Sept 8. at Meadows Valley at 3:50 p.m., Sept. 15 at Garden Valley at 1:30 p.m., and Oct. 6, Tri Valley at 3 p.m. Go help cheer on the middle school athletes.

Lindel Wheeler, longtime Salmon River resident and wonderful car mechanic died Wednesday, Aug. 24, after a courageous battle with cancer. Funeral services will be held this Friday, Sept. 2, at the Little Salmon River Bible Church at 11 a.m., followed by a luncheon for family and friends provided by the family. Lindy will long be remembered for his great smile and his "magic" at fixing cars.
Senior Citizen lunch is served every Tuesday at noon at the Riggins Community Center just behind the Chevron Station. Lunch is open to everyone; you are encouraged to attend. To keep this program going, they need more attendees. Thanks for helping keep this program in Riggins.
BINGO hosted by Salmon River Senior Citizens is next Wednesday, Sept. 7, 6:30 p.m., at the Salmon River Community Center for adults ages 18 and older. The $5 entry fee gets you two Bingo cards...you may purchase additional ones if you like. There are cash prizes for winners of each game as well as free refreshments for all…and baked goods you can purchase. Will you be the next winner? The Senior Citizens changed their Bingo Night from Fridays due to SRHS football and volleyball games on Fridays.

"Rattle the Canyon" with music, friends, and fun Saturday, Sept. 17, in the Riggins City Park sponsored by the City of Riggins and the Salmon River Chamber of Commerce, to help raise funds for the construction of a new stage in the Riggins City Park. A new stage will bring opportunity to our canyon with unlimited possibilities of live music, theater, movies in the park. You get the idea! This is a first year event! We are excited to bring three live bands to the canyon this year. Gates open at noon; music begins at 2 p.m., with Ruff Kutt rattling out some great tunes followed at 5 p.m. with Lucky Tongue rattling on with more great hits, and ending the night with Jeff Cosby and the Refugees rattling the Canyon with more wonderful music until 11 p.m. The Food Shack and the Beer Garden will be serving your favorite food and beverages from noon until 11 p.m. Plan now to join in on the fun. Tickets, $15 for ages18 and older, $7.50 for ages 10 – 17, and free for ages 9 and younger, will be available at the gate. Must be 21 or over to be in the beer garden, ID is required. No pets. No coolers.
The Riggins Salmon Run, Saturday, Sept. 10, is uniquely a "foot race along the beautiful Salmon River located in Riggins, including a Fun Run for children of ages 3-6, a half marathon, a 10K, and a 5K. Register today at www.rigginssalmonrun.com.
There will be a free Poster Making Party for the Riggins Salmon Run in the Riggins City Park Friday, Sept. 9, 6 to 8 p.m. Come on out and create a poster to inspire our runners on race day.

The Salmon River Art Guild extends an open invitation to all regional artists, 18 and over, of fine art media to enter the 2016 Regional Art Show in Riggins, Idaho, in October at the Riggins Community Center just behind the Chevron Gem Stop. The public will be invited to view the show on Saturday, Oct. 1, 9 a.m. – 5 p.m. (MDT) and Sunday, Oct. 2, 9 a.m. – 3 p.m.(MDT). Special rates are being offered to attendees at the Salmon Rapids Lodge. Call toll free 877-957-2743 for reservations, and ask for the "Salmon River Art Guild" group rate. For information on rules and regulations, interested artists may write to: SRAG, PO Box 32, White Bird, ID 83554 or call Nancy Gresham at 839-2493, Kathryn Van Acker at 839-2808, or Gloria Teats at 839-2305 or email: srag.idaho@gmail.com.