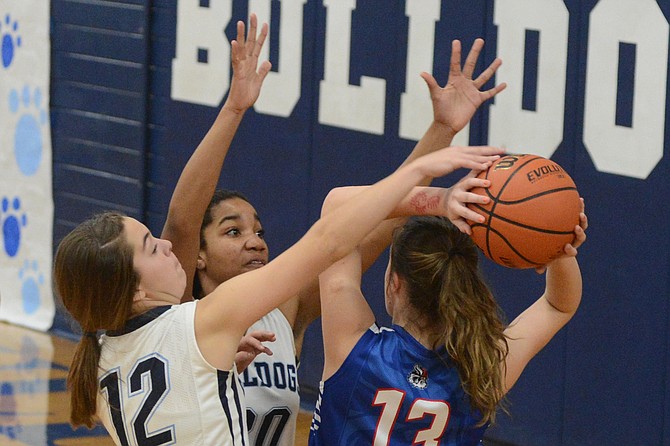 Photo by Andrew Ottoson
Grangeville guard Kate Lutz (12) and post Jakaili Norman were all over McCall on this trap in the corner -- much as the Bulldogs were all over the floor all night during their 54-30 win over the Vandals Friday, Dec. 2.
Girls basketball results
Grangeville 54, McCall 30
Prairie 61, Genesee 30
Lapwai 85, Kamiah 14
Troy 65, Clearwater Valley 14
Kendrick 36, Summit 36
(Check back later for results. To report a score, text 208-507-0675, Facebook us, or e-mail us. Complete score sheets received by 10 p.m. will be written up tonight.)
WHERE WE'LL BE
GRANGEVILLE — The GHS girls will host McCall, having beaten the Vandals 54-29 earlier this season on the strength of 11 points apiece from Paige Lindsley and JaKaili Norman. The 'C' squads will take the floor at 4:30 p.m. with the JVs to follow and the varsity tip-off anticipated at about 7:30 p.m.
AROUND THE LEAGUES
At Lapwai, the Kamiah girls will face a Wildcats outfit that has scored 67-plus in every game so far, with an 80 per-game average and a season high of 93. The Kubs' peak total came Tuesday night at the Upriver Rampage, where Lacey Kludt (13), Kati Wilkins (12) and Chynna Wilcox (11) boosted Kamiah's total to 59.
At Troy, the Clearwater Valley girls face a team averaging 51 points per game. Behind Torrie Pfefferkorn (18) and Averie Proctor (14), the Rams matched their season-high output of 47 Tuesday night against Kamiah.
MORE TO SEE
No area boys teams are in action tonight. Local wrestlers will be traveling to Potlatch tomorrow morning for the first meet of the season. There are six basketball games on the schedule tomorrow afternoon and evening, including the Idaho County Shootout, and winter weather may be of concern.
RESULTS
GIRLS: Grangeville 54, McCall 30
Dec. 2 at Grangeville
Vandals 6 6 2 16 - 30
Bulldogs 9 23 9 13 - 54
Grangeville scoring
Paige Lindsley 14, Mikayla Ruzicka 8, McKenzie Kennedy 8, Kate Lutz 7, Rachel Kelly 6, Jakaili Norman 4, Sophia Bush 3, Chloe Dame 2, Colby Canaday 2.
Bulldogs overpower Vandals
GRANGEVILLE — Everything was in its right place Friday night at GHS, where the hosts won the varsity, JV and C games in lopsided fashion, with the senior squad rolling 54-30 behind Paige Lindsley's 14 points. Grangeville coach Michelle Barger spoke of the Bulldogs' effort in all phases in glowing terms.
Grangeville reeled off a 16-0 run that effectively put the outcome beyond doubt during the second quarter. During the sequence, Lindsley tallied a couple of long shots, Rachel Kelley scored in the paint, Lindsley added a layup, Jakaili Norman tallied a jumper, McKenzie Kennedy made a free throw, Mikayla Ruzicka made a layup and Chloe Dame swished a 10-footer.
"We took care of the ball," Barger said. "That's the best thing we did tonight. We passed well, we scored some points, we ran our offense and we shot really well in the first half. I would have liked to see us shoot a little better during the second half, but we had a little different rotation. I was pleased with the overall performance."
<< PREVIOUSLY || NEXT >>
(Check back later for results. To report a score, text 208-507-0675, Facebook us, or e-mail us. Complete score sheets received by 10 p.m. will be written up tonight.)