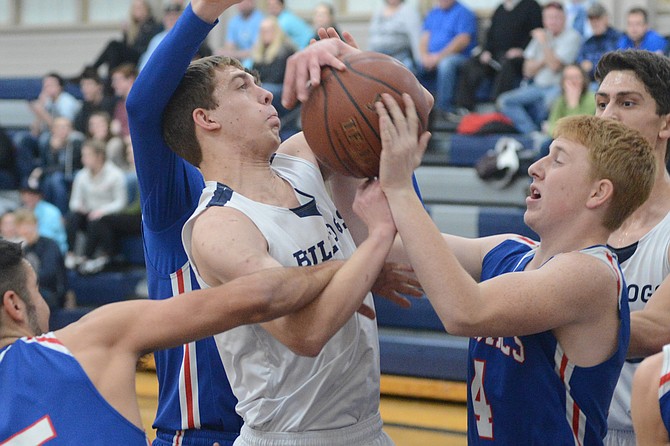 Photo by Andrew Ottoson
Grangeville's Ethan Bonn scored seven and GHS beat McCall 67-42 Dec. 6.
Girls basketball schedule/results
Prairie 41, Moscow 37
Kendrick 55, Clearwater Valley 34
Summit at Timberline ppd.
Boys basketball schedule/results
Grangeville 67, McCall 42
Prairie 66, Kamiah 39
(Check back later for results. To report a score, text 208-507-0675, Facebook us, or e-mail us. Complete score sheets received by 10 p.m. will be written up tonight.)
WHERE WE'LL BE
GRANGEVILLE — The Bulldog boys will be playing their second game of the season tonight against McCall. Last time GHS played the Vandals, in February, Grangeville won 59-45. The 'C' game is expected at 4:30 p.m., with the JV to follow and the varsity anticipated on the floor at about 7:30 p.m. The Grangeville girls' Kamiah trip has been cancelled and no make-up date has been announced.
AROUND THE LEAGUES
In Cottonwood, the Kamiah boys will be looking to level their Whitepine League record and the Pirates will be playing their first WPL game under coach Kevin Chaffee.
At Weippe, the Summit girls will be visiting Timberline and both squads will be looking for a first win, which would double as a league win in the WPL's second tier.
MORE TO SEE
At Moscow, the unbeaten Prairie girls will visit a Bears squad that has yet to win a game. Moscow, shorthanded due to injuries, will not field a JV squad, so after the 'C' game at 5 p.m., the varsity is anticipated to take the court at about 6:30.
In Kooskia, the Clearwater Valley girls will be hosting Kendrick, which is coming off a 50-39 win over Kamiah.
RESULTS
BOYS: Grangeville 67, McCall 42
Dec. 6 at Grangeville
Vandals 2 13 8 19 - 42
Bulldogs 16 10 16 25 - 67
Grangeville scoring
Ryan Ruklic 15, Trey Dreadfulwater 14, Patrick Schumacher 11, Luke Stokes 9, Ethan Bonn 7, Colby Kennedy 6, Booker Bush 3, Jacob Vanderwall 2.
Bulldogs chomp Vandals
GRANGEVILLE — The visiting Vandals trailed 14-0 and the Bulldogs went on to win 67-42 Tuesday night at GHS. After the game, Grangeville coach Kelcey Edwards said his players all hit goals they set before the contest: rebounding for the forwards, assists for the guards.
Junior forward Ryan Ruklic led GHS with 15 points including six quick ones on three straight layups during the third quarter. The Bulldogs also scored repeatedly on back-door cuts, with senior guard Luke Stokes tallying nine -- all during the second half.
Freshman guard Trey Dreadfulwater opened the scoring at 2-0 and established Grangeville's biggest lead of the night with a fastbreak layup followed by a jump shot off of a pick-and-roll during the fourth quarter, the second of which put GHS ahead by 26 at 63-37.
Next, Grangeville is set to visit Clearwater Valley this Thursday night.
<< PREVIOUSLY || NEXT >>
(Check back later for results. To report a score, text 208-507-0675, Facebook us, or e-mail us. Complete score sheets received by 10 p.m. will be written up tonight.)