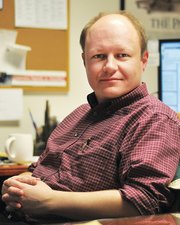 Three-quarters of a century ago, on this date, Dec. 7, Imperial Japanese forces launched a surprise aerial attack on the U.S. Naval facilities at Pearl Harbor, Hawaii; the event enraged the nation and launched U.S. involvement in World War II.
We all know the story. Or do we?
Writing opinions on commemorative events, it's easy to lapse into cliché statements of the need to honor the sacrifices and remember the lessons they teach. These are important, no doubt, but they just preach to the choir. To the remainder, these pleas to honor and remember are shallow, surface sentiments easily brushed off.
Perhaps the editorial board is becoming more curmudgeonly, but we question the modern age's real-time information and the public's incessant demand for the next new thing. Cynically, we see more emphasis on short-term satisfaction over long-term perspective.
So how can history compete? How can lessons from 75 years – heck, even 15 years ago from the 9-11 attacks – remain relevant to those several generations separated from the events in question?
It's not enough to say we need to honor and remember. We need to say why.
Hence, the value of commemorative events and journalistic interviews that give voice to history: veterans, survivors and eyewitnesses speaking to their personal moments at critical junctions in time. Why should we honor sacrifices in war or tragic historic moments? Because they have impacted individuals whose roles we all identify with – a parent or sibling, a friend, a husband or wife, your neighbor or that goofy uncle – and they came away changed in powerful ways and have become a part of that history more meaningful than any dry fact or calendar date can convey.
Dec. 7 is just another date on the calendar, one that history tells us we should hallow. It's the human experience, the personal story, that truly gives it meaning.