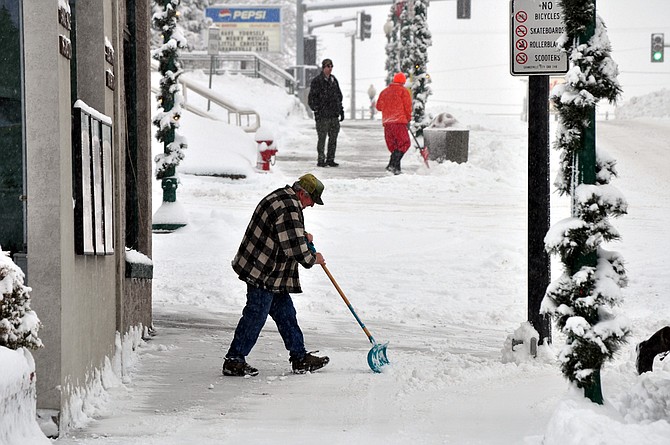 Photo by David Rauzi
Snow shoveling along Main Street in Grangeville. (Free Press Archive)
More snow is on its way for Idaho County in a series of forecasted systems set to start Thursday evening, Dec. 8.
Multiple rounds are expected, according to a Dec. 7 video briefing by the National Weather Service Missoula office, with Thursday beginning a four- or five-day period where many valleys will see accumulating snow each day. This pattern with a series of snow-making weather systems in close succession is relatively rare, with the last seen in 2012, and has the potential for impressive valley snow totals, according to NWS Missoula.
For Idaho County, the 24-hour snow totals (starting at Thursday evening through Friday evening) are forecasted at the following:
Grangeville and Lowell: 3-4 inches
Elk City: 8-12 inches
Dixie: 6-8 inches
Riggins: less than 1 inch
More Info Online
Track regional weather online:
Friday evening through Saturday evening (Dec. 9-10), another round of impressive snow is expected, with the mountains of North Central Idaho forecasted to receive around 12 inches. Forecasted snow levels for this event are the same as those expected from the Thursday to Friday event.
Meteorologists expect a "break in the action" Saturday through Sunday morning (Dec. 10-11), though some scattered snow showers are forecasted. Sunday night into Monday (Dec. 11-12), a push of arctic air may enhance snowfall.
The big picture in these events is on ground and air transport, due to snow-packed surfaces, and periods of gusty winds that could produce whiteout conditions. Motorists traveling mountain passes during these periods are advised to exercise caution.
---
---
UPDATE, Thursday, Dec. 8 - NWS Missoula:
There are four somewhat distinct weather systems expected through early next week. While there may be few or no prolonged episodes of truly heavy snow in the valleys during this period, the frequent light to moderate accumulations are expected to profoundly stamp winter's signature on much of the Northern Rockies.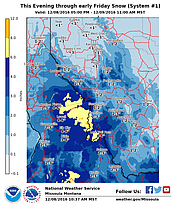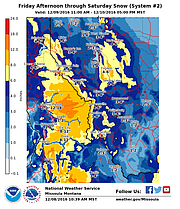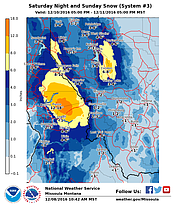 System # 1
Timing: This evening (Thursday) through Friday morning.
Main Areas of Concern: North Central Idaho through the Bitterroots.
Impacts: Steady light to moderate snow rates with little wind, so some slow travel likely at times. Best amounts will be over Clearwater and northern Idaho Counties, but should be enough accumulations in west central and southwest Montana, and Lemhi County to impact travel, particularly for Friday morning's commute. Very light amounts are expected during this time over northwest Montana. Temperatures will remain pretty cold. Probable level of impact is low to moderate.
System #2
Timing: Friday afternoon through Saturday.
Areas of Concern: More widespread than System #1 but continues to be focused over north central Idaho and west central Montana.
Impacts: Again mainly a snow producer with not much wind expected. However, amounts will be greater with this system. A bigger concern is the potential for snow banding focused late Friday night through the pre-dawn hours Saturday. This will be primarily a concern for west central Montana, and could cause a few hours of much greater snowfall intensities. Temperatures will moderate some through this system, but remain quite cold in the Montana valleys. Probable level of impact is moderate, but possibly high in travel corridors of western Montana late Friday through very early Saturday.
System #3
Timing: Late Saturday through Sunday.
Main Areas of Concern: north central Idaho, west central and northwest Montana.
Impacts: Overall this system's strength looks somewhere between #1 and #2, although placement should produce a little more snow in northwest Montana than the previous systems. Some westerly wind is expected, but probably not enough for blowing snow concerns. Banding again could be a concern from during the day Sunday. This will continue to erode the cold air stuck in the Montana valleys, and some of these will even move a little above freezing by Sunday afternoon. Probably level of impact is moderate, but again could be high under any bands that might form across western Montana Sunday.
System #4
Timing: First half of the coming work week.
Area of Concern: All of the Northern Rockies
Impacts: This system is significantly different than the prior three, and in fact is more of a pattern change than a distinct system. A deeper, and more westward, surge of Arctic air is expected, but it appears that it will move in in pieces. As usual, northwest Montana will see the cold air first, and confidence is growing that this will happen Monday. However, there is much less confidence on timing of the Arctic air into north central Idaho. At this time model solutions for that outcome range from Monday night to the latter of half of the week.
While many of the details with this pattern change are yet to be determined, it does look like a prolonged cold event. We do expect some high level impacts with wind and snow as the cold air spreads into the area, so keep up with the updates. The other concern will be periodic episodes of heavier snow as moist westerly flow rides over the cold air through the week.