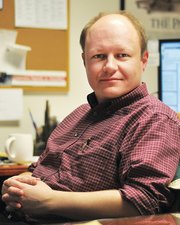 So critical, emergency medical service is a blessing we often overlook to count.
It goes 24-7, while you're sleeping or at work, available downtown or on a lonely stretch of dark ice-covered highway.
Volunteer EMTs (emergency medical technician) are on call through holidays and weekends, ready to put in hours on an emergency call … likely on top of a full eight-hour day job he or she has already completed or is about to start. They're on the scene of vehicle accidents, residential and industrial emergencies, and on standby at the scene for fire and police incidents.
It's neighbors not only helping neighbors but also visitors passing through or stopping for a hunting or fishing trip.
And then there's training to certify, more training to advance, and then continued training to remain certified. And that takes more time from their days, or day's off, and a little cash, as well.
Idaho County is fortunate to have a consistent army of EMTs spaced out hundreds of miles from Riggins to Ferdinand, and eastward — across the Clearwater Valley and down into Elk City and Dixie, and up into the long stretch of U.S. Highway 12 at Powell.
It's good to refresh ourselves on this service that is so essential, that reaches most everywhere we live, work or play in the county, and that runs on the generosity of others.
Keep these men and women in your mind this season, and into the coming year. In your charitable giving, consider donating to one of the EMT organizations. Or as an employer, provide opportunities for your employees to have the schedule flexibility to be on call for EMT duty.
Or consider stepping up yourself and joining the ranks of these guardian angels. They definitely could use more hands on deck.