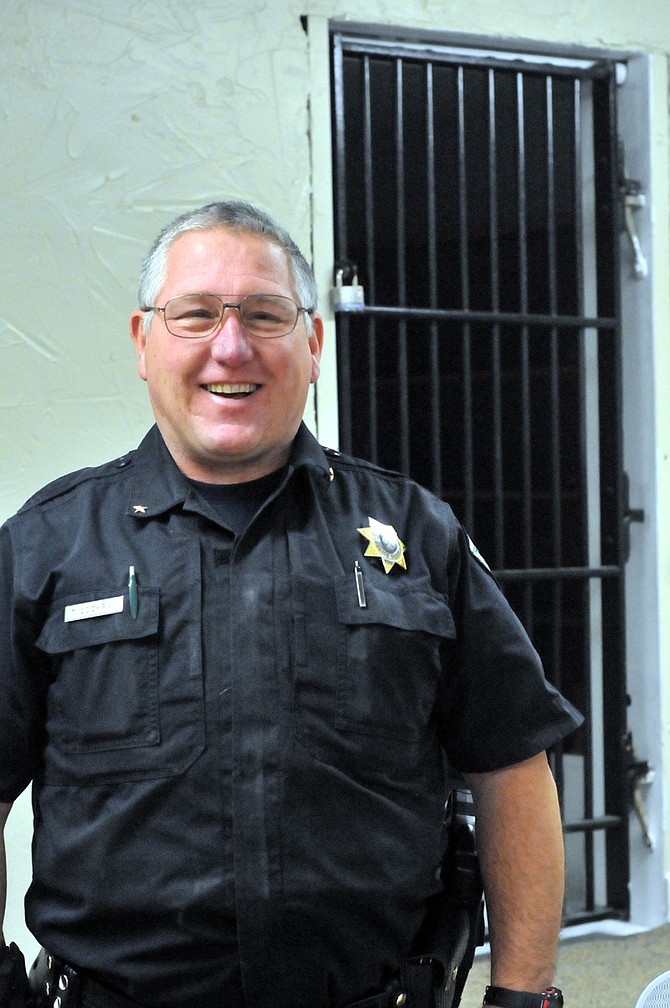 Photo by Laurie Chapman
Cottonwood Police Chief Terry Cochran stands in his office at the Cottonwood Community Hall. A holding cell is shown behind him, a remnant of the former city jail. The jail cell sits on a raised covered concrete slab which was built to accommodate a creek flowing below the city building. Cochran has served the city for 16 years and was moved into his new office this year when the city renovated the community hall building.
COTTONWOOD — There's an old adage: looks can be deceiving. Cottonwood Police Chief Terry Cochran has the stocky build which elicits a sense of power, authority and even an audacious manner.
Cochran is completely OK with that. One might even say he welcomes that belief.
But those who know him well, say there is more to the chief than this gruff exterior. Ask fellow Marines he was deployed overseas with and they will tell a story of Cochran jumping onto a chair to get away from a viper. Cochran said it was a small snake but emphasizes the fact they are highly venomous.
"I hate snakes!" he said.
Or ask Cottonwood school resource officer Jason Rambo, who says Cochran is the kind of person who drops everything to assist someone else.
"Anytime I have questions, he'll drop everything to help me out. He's also that way outside of work," Rambo said.
He described an incident when he was making repairs on his roof at home.
"[Cochran] showed up with his son and they helped me with the roof without being asked," Rambo said. "He's very community minded. He's an inspiration to me."
The city was recognized this year for its Alcohol & Drug Education & Enforcement Program, which provides grant funding. Those dollars allow Rambo to serve as school resource officer on a part-time basis.
Rambo said Cochran works hard to ensure the city gets the grant funding each year.
"He doesn't have to do that," Rambo said, but notes Cochran's proactive vision of working with the youth to improve community relations is the impetus behind his mission.
Rambo spends time in the schools educating students about the impacts of substance abuse, Cochran said. But Rambo said the goal is to build positive, working relationships with the youth.
Cochran said Rambo also works what Cochran calls "party patrol." Cochran grew up in Cottonwood, graduating from Prairie Junior-Senior High School in 1984, so he said he's familiar with all the typical spots teenagers find to hangout on weekends.
"I know all the places kids use to hide when the cops come. I took Jason around and pointed all those places out to him," Cochran said.
Cochran has been an officer with CPD for 16 years. He says he serves as everything from the dog catcher to investigator. He runs patrols and writes tickets, but he also spends time in his office writing up reports and submitting paperwork.
And Cochran is the only full-time officer in Cottonwood. Officers Rambo and Wes Walters work part-time with the city department.
In his time with the department, Cochran has investigated a bank robbery, an arson-suicide investigation, and the fatal shooting of a law enforcement officer. He also worked with city officials to prevent damage to Main Street businesses when flooding threatened the community.
While those situations don't occur frequently in the small town of just slightly more than 900 individuals, they are high-adrenaline and tend to weigh heavily on officers involved.
"Ninety-eight percent of the job is enjoyable," he said. "If I let that other two percent get to me, I would burn out quickly."
While brute strength is often required to tackle the job at hand, Cochran said one key element to working a smaller community is building relationships. He can choose to crack the whip on every violation he encounters, or he can educate the public on the violation and attempt to correct their actions.
"I had one instance where I had a warrant for an individual and I saw his truck at a local restaurant," Cochran said. "I stopped in and sat down at the table with him. He had just been served his food and he put his fork down and pushed his plate back. I told him 'You finish your meal and call me when you're done.' "
Cochran realized the individual could have been dishonest and just walked away. Instead, he called Cochran and was arrested. Cochran believes the respect he built with the individual paid off in the end.
And then there are incidents that provide comic relief for the chief.
Cochran noted a popular "parking" spot for teenagers has been the southwest end of the grain elevator where there is no lighting. Cochran has often pulled back there to find a couple parked and the windows steamed over.
"I park so my lights are on the back of the vehicle and you see arms waving and clothes flying," he said chuckling. "I give them a minute then walk up and tap on the window and ask them, 'Doesn't someone need to be driving?"
More like this story