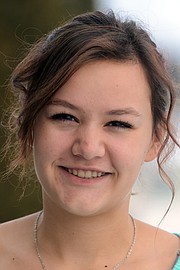 "We were ready for them," GHS senior McKenzie Kennedy said of Grangeville's lopsided win over Orofino on the first night of Central Idaho League play. "They started shooting better, so we manned up and did a great job of stopping them."
The GHS girls haven't lost a game — regular season or playoffs — to Orofino during Kennedy's four years of varsity basketball.
"We started out in the box-and-one and when they started hitting from the outside, we switched," Kennedy said. "That's when we were able to get some good defensive pressure and some turnovers."
Kennedy — one of three varsity seniors — posted one of her best statistical performances of the season, with 19 points and 11 rebounds against the Maniacs.
"JaKaili Norman got rebound after rebound, and that was huge," Kennedy noted. "A lot of my points came from her rebounding and faking to go up, then dishing it outside. That gives a wide open shot. Paige Lindsley would drive in and collapse the defense and pass."
Grangeville's inside-outside game and drive-and-kick game resulted in GHS winning the CIL opener by a nearly 2-to-1 margin.
Kennedy and the Bulldogs are focusing on winning the district once again this year, which would involve beating St. Maries.
"It's kind of an expectation — we don't lose to Orofino," she said. "We'll have to play strong and be ready for St. Maries. They have two sisters that are posts, and our posts will be a big part of that game."
The first St. Maries game will be away on Jan. 7.
This Bulldog of the Week athlete highlight is brought to you by: P1FCU.