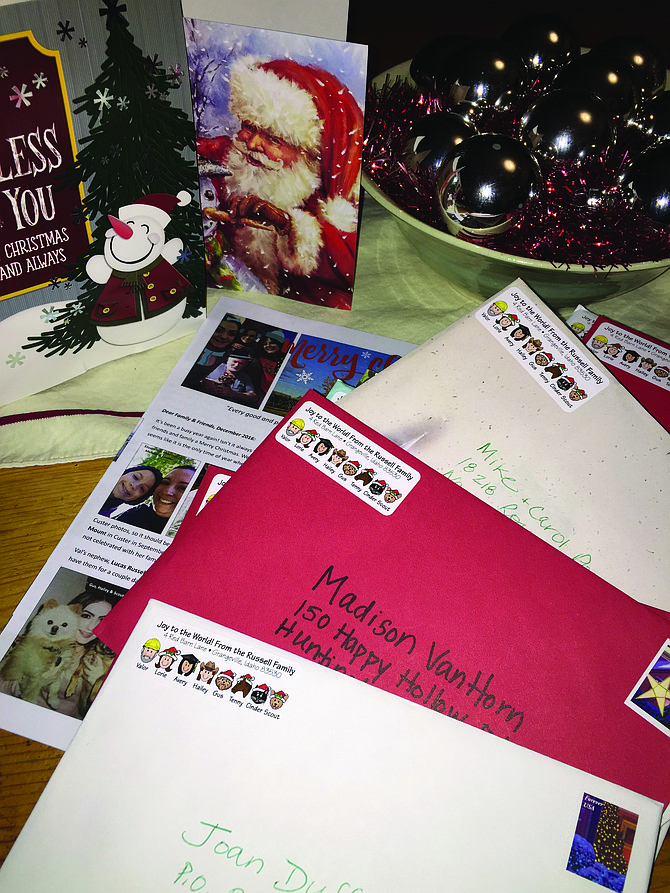 Photo by Lorie Palmer
Idaho County Free Press readers vary on what they enjoy receiving in the mailbox for the Christmas season. Here, the reporter readies her 70-plus cards and letter to send to friends and family members.
GRANGEVILLE — "Hello. My name is Lorie Palmer and I like to write Christmas letters."
That's right, form Christmas letters that I copy and send to 50 people. These letters give all the highlights of our family's year, as well as the struggles we have gone through. They are filled with photos of us as well as our pets. These letters may very well be the only correspondence I send to friends and family members-afar each year.
Each year, I enjoy receiving letters, as well. I like reading about the details of lives of those with whom I no longer have daily or weekly contact.
However, I have come to find out that these letters offend some people (at least that's what I have read on the Internet and Facebook and have heard in some water-cooler conversations). So, I thought I would put the word out on my Facebook page and ask if my friends enjoy receiving cards and letters at Christmastime. I am only including the responses from those with Idaho County ties, but here's a handful of those who spoke up:
•I love getting Christmas cards. It makes me feel special to know that someone took the time to think of me during the holiday season. Kaydie and I put them on the fridge all month long to see all of the different ones we receive. — Ashley Haug, GHS graduate, Lewiston
 •I have written Christmas letter for years and add a short personal note to the bottom of each for family/friends. Now I still snail mail some that don't have Facebook/e-mail. I love getting them sent to me! Hope others do too. — Rose Ann Woolridge Mangini, Grangeville
•I love pictures and letters. I hang the pictures and they're usually up until summer at least! And I love reading letters about everything going on. Makes me feel closer than social media or texting! — Melody Plisky, former Grangeville resident, Evansville, Ind.
•Love photos and letters, even 'form' letters. It makes me feel like I have gotten something right—like the relationship between the other person and me matters. I still write to my childhood pen pal and look forward to seeing her card in the mail every year! — Kathy Ackerman, Grangeville
•Cards with pictures are best. — Ted Lindsley, Grangeville
•I do like to receive Christmas cards and love Christmas letters that come with them. Personal messages trump photos. During the holidays, I hang the cards on ribbons that stream down our closet doors. Just thumbtack the ribbon to the top of the door; simple, easy and no tape residue. After the holidays, I save the cards to cut up as gift tags in subsequent years (enjoyable also to re-read the messages a year later). — Frances Conklin, Cottonwood
•I love Christmas cards and letters, especially love the picture cards. I try to send a picture card of our family each year to show people how our family is growing and changing. Love getting letters as well! — Lynn Lees Cook, White Bird
•After my Mom passed away in 1993, I was going through some boxes and found Christmas cards and letters that she had dated and saved for more than 30 years. Yes ... I went through them, reading and remembering many that I was able to open first, because they were addressed Mr. and Mrs. and Debbie. I cried and laughed – and, yes, I saved many of them. That was an important part of my childhood. I would help her address the Christmas cards too, since she sent out at least 200 every year, and she always wrote a little something in each card that was personal to the addressee. She always took the time for friends and family. Loved her for that. — Debbie Needham, Kooskia
•I loved delivering Christmas cards and packages for USPS at Christmas. It's the one time of year that everyone loves to see the mail carrier. Now, after Christmas—-no one wants the bills! — Linda Junes, former United States Postal Service mail carrier, Grangeville
•I like Christmas letters as long as they don't "sugar coat" everything. I have received a few over the years that just made me mad since they were trying to make their family look perfect. If it is an honest Christmas letter I love them. Cards with pictures are still my favorite though. — Sydney Roberts, Grangeville
*
I think the verdict is in, at least for Idaho County: We like to receive Christmas mail, the more personal the better.
Make someone's day and send them a card right now.
Merry Christmas!