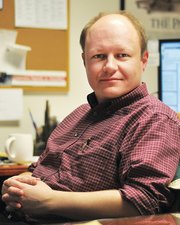 The framework of a "use of force" policy continues to be shaped by trustees for Mountain View School District 244. The outcome is inevitable: A policy will be formed, no question about it. But the form it will take is still shadowy at best at this point.
Two things we've observed through this process, now more than a year in the works.
First, trustees, to their credit, are in no hurry to push something through, as evidenced at the Dec. 19 meeting where good questions continue to be raised – such as what is the actual intent of this policy? – and the board's newest member, Jeremy Harris, is confident enough to say he would have voted "no" were it to have come to a vote that evening.
Evidenced throughout all this, trustees clearly understand both the complexity and emotion involving this issue, and it's going to take as long as it takes, as voiced by district clerk Becky Hogg, to fashion verbiage into policy that the board is comfortable in adopting.
Because some policy – guns or no guns on campus — needs to be in place, based on information and its deliberation, and something consistently applied throughout the district rather than building by building and the whim of the moment.
But the second observation is much of this deliberation could be greatly shortened by a solution that surfaced again last week: resource officers.
Frankly, that's a good idea with long-established precedent to avoid "reinventing the wheel," and one that addresses needs for security, as well as those who are uncomfortable with the issues surrounding armed staff members. On this last, having a POST-trained (police officers standards and training) officer on duty, with this role as his or her sole focus, would be far less a liability concern.
But the best-case solution doesn't come cheap; estimate is $50,000 per school per year to fund such positions. And considering area income levels and fiscally conservative nature of the district, adding resource officer funding into the annual levy request – which last March for MVSD squeaked by with a 50.5 percent approval — is likely to lose the election for the district for both books and bullets.
It's no simple matter, and it may give you a glimpse at how building this policy is no easy go for trustees, who, by the way, deserve credit for taking this issue on in the first place, rather than ignoring the elephant in the classroom.
We'd highly encourage our readers to share their opinions and ideas with the trustees, attend one of their meetings to check on the policy's progress, and as well let their voice be heard with letters on this page.