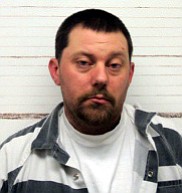 GRANGEVILLE — Grangeville resident Barry R. Kretschmer, 33, was arrested this morning, Wednesday, Feb. 3, for burglary in connection with thefts from Gortsema's Storage.
According to an Idaho County Sheriff's Office (ICSO) press release, at 3:26 a.m. today, Idaho County Sheriff's Dispatch was notified of a vehicle and open storage units at Gortsema's Storage on the Truck Route. Deputies Mike Chlebowski and Jason Hicks and Grangeville Police Officer Wes Walters responded to the location and found Kretschmer.
Kretschmer claimed he had authorization to be in the open storage units. Contact was made with the party renting one of the storage units who advised Kretschmer did not have authorization to be in the unit. He also responded to the scene and identified items in Kretschmer's vehicle that were taken from his unit.
Kretschmer is being held in the Idaho County Jail. Bond will be set upon his appearance before the magistrate judge.