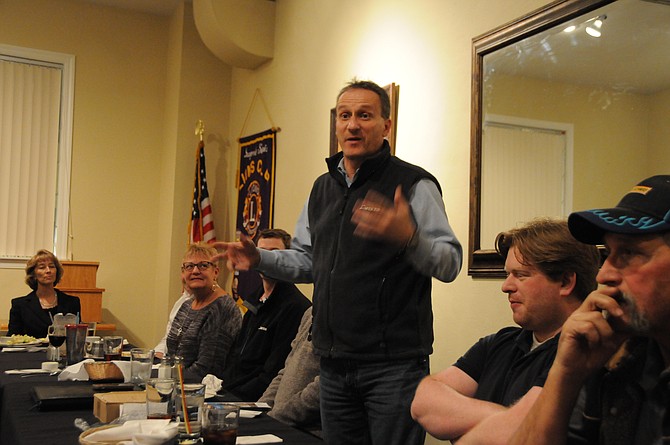 Photo by Lorie Palmer
Mike Tatko, Avista regional business manager for the Lewis Clark region, speaks at the Jan. 21 Grangeville Chamber of Commerce meeting, which was held at Oscar's Restaurant meeting room.
GRANGEVILLE — More than 25 people showed up for the Grangeville Chamber of Commerce quarterly meeting where they welcomed representatives from Avista Utilities.
Downtown bricks being looked at
GRANGEVILLE – "We are trying to get a contractor to look at the downtown bricks and see what can be done with them," said Grangeville Chamber of Commerce part-time director Jeff Kutner. "Some businesses keep them up and others look just awful."
Bricks were installed years ago as part of a downtown beautification project and were installed incorrectly and sunk down past the sidewalk level.
"A couple businesses had theirs fixed and they look great but we need to do something about the others, so we will be checking to see how much it costs and if there are any grants available to help and what it might cost each business," Kutner added.
In other business discussed at the Jan. 21 chamber meeting, Kutner also brought up the idea of pooling possible North Central Idaho Travel Association money with other chambers to use for advertising for "more bang for the buck," he said.
Kutner also said the chamber would like to offer training at meetings and would like to hear from its members on what they want. E-mail jeff@grangevilleidaho.com with ideas.
The chamber board will be meeting at The Gallery the first Tuesday of each month at 7:30 a.m.
Regional business manager for the Lewis Clark region, Mike Tatko, regional account executive Jayson Hunnel, new Grangeville district manager Jeff Schwendener, and local office receptionist Holly Cox all attended the meeting.
"And we start out with a gift," smiled Tatko, while Schwendener gave out a survival tool and Tatko handed out an "811 - know what's below. Call before you dig" card that focused on the colors workers spray paint to indicate certain underground lines.
"I've always wondered about that," said Cindy Hake of Central Idaho Properties, and also the chamber vice president.
The business-sized card showed red for electric, yellow for gas/oil, orange for communication, blue for water, green for sewer, pink for temporary survey, purple for irrigation and white for proposed excavation.
"And you thought it was just whatever spray paint they had handy," joked Tatko. "Seriously, there is a method to the madness and we are always focused on safety, so please remember to call 811 before you dig and remind your neighbors to do the same."
Tatko reminded customers need to call at least two days prior to any digging – including the planting of trees and shrubs or fencing for animals – to locate and mark all underground utilities.
"Remember, if you don't call and you dig – well, you break it, you buy it," he shrugged.
Meeting attendee Doug Hoogland, whose wife, Jody, owns Homegrown Quilts, asked about limbs.
"Whose responsibility is it to trim limbs in lines?" he asked.
"It does vary, depending on where the trees are located," Tatko said. He explained that Avista works with trimming companies who follow arborist recommendations for proper pruning and trimming.
Schwendener added that trimming is normally on a five-year rotation.
"So when Avista and its contractors trim, they look at it lasting five years," he said. "Of course, some trees grow faster, so we're still going to trim as needed."
Tatko also spoke a little about Avista's career opportunities and said the company has 1,600 employees with only about half of those positions being linemen.
"So when people walk by us at a job fair thinking, 'I don't want to climb poles!' I always grab them back and show them the many, many other positions available within the company," he said.
Tatko also gave kudos to the Avista team that in 2015 donated more than 48,000 hours to 800 different organizations.
"The guys do a lot and you see it in the form of putting up and taking down Christmas lights or helping hang banners," he said. "They do a great job and I know they give more hours than we ever write down."
Hunnel spoke on finances, mainly rebate programs and energy efficiency.
"Our goals for 2020 to have 15 percent renewable energy have already been met, so we are very happy about that," he said. "Part of this is due to a newer rule that allows bio-mass to go toward that number."
Hunnel said he is often questioned on "Why would a power company push energy efficiency – isn't that just selling less of the product you are offering?"
"The short answer is, Avista does not have enough power for all of its customers. If we can help our customers be more efficient and we in turn have more power, that is cheaper than going out to buy power elsewhere or building a new dam," he explained.
To that end, Avista offers a variety of home and business rebate programs for becoming more energy efficient.
"I recently went through an Energy Smart and Avista program to replace fans in my refrigerators and coolers, and all we had to pay for was installation," said Kevin Asker, Asker's Harvest Foods.
Hunnel said he and a team from Avista are available to come into businesses for an energy audit at no cost.
"We want to help you be as efficient as possible," he said. "We offer that service and will come in and look at all your lighting, H-Vac and more and see if we can come up with a plan to help save energy and save on your electric bill."
Avista representatives can be reached at 1-800-777-6049 or log onto www.avistautilities.com for questions on various programs.