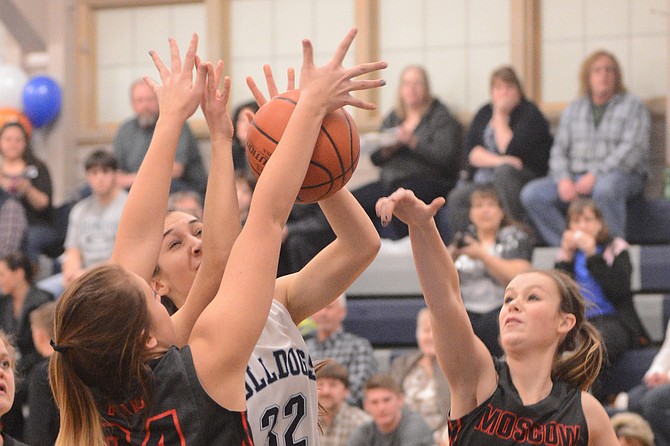 Photo by Andrew Ottoson
Grangeville trailed Moscow 4-0 before senior Darby Finnegan got to the foul line and sank two free throws. Moscow went on to win 37-27Thursday night, but GHS rallied to within four points during the fourth quarter.
Boys basketball schedule (JV game start times)
Lapwai 57, Prairie 36
Troy 52, Clearwater Valley 50
Girls basketball schedule (JV game start times)
Moscow 37, Grangeville 27
(Check back later for results. To report a score, text 208-507-0675, Facebook us, or e-mail us. Complete score sheets received by 10 p.m. will be written up tonight.)
WHERE WE'LL BE
GRANGEVILLE - It's senior night for the Bulldogs, and at 6 p.m. they're hosting Moscow, which won the first meeting of the teams 44-9 in January.
AROUND THE LEAGUES
At Lapwai, a battle between the top two boys teams in the Whitepine League is slated for 7:30 p.m., to follow a 6 p.m. JV start.
At Troy, the Clearwater Valley boys can tighten their grip on third place in the WPL. In December, the Rams beat the Trojans 58-44.
MORE TO SEE
No non-league games are scheduled.
RESULTS
GRANGEVILLE - The Bulldogs tripled their output compared to a previous meeting, but also made a threatening run during the fourth quarter of a 37-27 loss to Moscow. With Hailey Sullivan (12 points) heading Grangeville's senior night effort, the Bulldogs closed within four points after trailing by as many as 16. Down by nine through three quarters, GHS scored an early basket and set up a zone defense that pushed Moscow into the first of several bad possessions. After forcing a turnover, and after retaining possession out of a tie-up, Grangeville closed within 31-27 on a triple by McKenzie Kennedy, who finished with seven.
After Moscow again misfired in the face of the zone, Rachel Kelley's defensive rebound produced a chance for Grangeville to close within a possession. After Kennedy missed long on a chance out of an inbounds play, Sullivan came up with a steal and drew a foul, setting up another inbounds play. But Sullivan also missed, and Moscow effectively bled out the last of the clock while extending the lead with a mixture of stalling offense and accurate free throw shooting.
"Until we had to start fouling, we defended pretty well," GHS coach Larson Anderson said. "We executed well on offense and we handled the ball much better than we did the first time we played them. Maybe we weren't used to the physicality at that time, but now that we've seen them and also played St. Maries twice, we were ready to compete. We didn't back down. For senior night, our seniors showed a lot of leadership and poise."
On Tuesday night at GHS, the Bulldogs thrashed Orofino.
"We frustrated them," Anderson said of the 66-39 win over the Maniacs. "We had them out of their offense, or any continuity. We don't have a chance to practice between games once the tournament starts, so we are preparing for both Orofino and St. Maries, knowing if we play the way we should, we'll be meeting St. Maries Monday night."
The district tournament opens at 6 p.m. Saturday, Feb. 6, at Deary; Grangeville will play Orofino in the first round. With a win, GHS would play the St. Maries/Charter winner at 7:30 p.m. Feb. 8 at Genesee. The tournament will proceed in double-elimination fashion on Feb. 10 and Feb. 11 -- and, if necessary, Feb. 13.
PREVIOUSLY
Details on Wednesday's events are here.