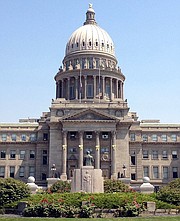 BOISE — Approximately 78,000 employed Idahoans cannot afford health insurance and earn too much to qualify for Medicaid, leaving them without sufficient health care, according to estimates from the Idaho Department of Health and Welfare.
Expanding Medicaid to cover this population would have closed the gap, but the plan has seen political resistance due to the Affordable Care Act.
With Medicaid expansion off the table and the problem remaining, Governor C.L. "Butch" Otter worked with Department of Health and Welfare Director Richard Armstrong to develop the Primary Care Access Program, which they unveiled at the start of the session.
With an estimated price tag of $30 million, this program costs the state more and covers less care than Medicaid expansion would, but is seen by many lawmakers as a more politically feasible, "Idaho solution."
Armstrong said throughout his presentations that the Primary Care plan is not an entitlement program, saying only as long as the money is available will money go to those in the gap population.
"So where do these individuals live? They're in every county in Idaho," Armstrong said. "We find, however, there are a couple concentrations."
One such concentration is Power County, where around seven percent of the population falls in the gap. Rep Ken Andrus of District 28, where Power County lies, said he thinks the governor's Primary Care plan is fine, but not enough to help the people in his district.
"These people in the gap, we're giving them a disservice by not allowing them to have the same health care that we, for example, legislators, enjoy," Andrus said. "We have an excellent insurance program. Those people have nothing. Nothing. The people in the gap are trying to make it on their own and it's a total injustice. "
Medicaid expansion, however, returned as an option last Tuesday, when the Senate Health and Welfare Committee heard testimony on two bills introduced by Sen. Dan Schmidt in Medicaid expansion's first-ever hearing in Idaho.
One bill is full Medicaid expansion, while the other is the "Healthy Idaho Plan," which expands Medicaid but leaves more implementation in the hands of the state.
"With the passage of this bill, the county indigent program and the catastrophic fund could be repealed, providing tax relief to county and state taxpayers," said Latah County Commissioner Tom Lamar.
Idaho physician Dr. Bruce Belzer, who testified in favor of a Medicaid expansion plan, said he had a 60-year-old patient who worked two jobs and had no insurance. He said she needed to see a doctor a minimum of three times a year but did not because she refused to go into debt.
"So the last time I see her, it's after a 10-day ICU stay," Belzer said. "Do you know how much that's going to cost? She could work two lifetimes and never cover that cost."
Senate Minority Leader Michelle Stennett said she thinks stories like Belzer's are what have been changing conservative lawmaker's minds on the need to care for the gap population.
"We've been talking about that gap for quite a long time, probably the last three years," Stennett said. "So really it has been a resistance within the legislature not to entertain it."
Armstrong presented data depicting how Idahoans on benefits act, which he said he hoped would help break stereotypes of the population lawmakers and the public might have.
"There is this myth in the U.S. that once you go on welfare, you stay on it," Armstrong said. "That's only 4 percent of recipients. Living on $1,000 a month is no honor, and nobody strives to be there."
Armstrong said the population is distinct from other demographics in that it is not static. He said those in the gap population are constantly leaving and new people are constantly joining.
Armstrong said the department has tested components of the program on small populations and that they are ready to launch the larger program.
"I'm tired of doing pilots," Armstrong said. "We pretty well know this works. Let's get out there and do this."