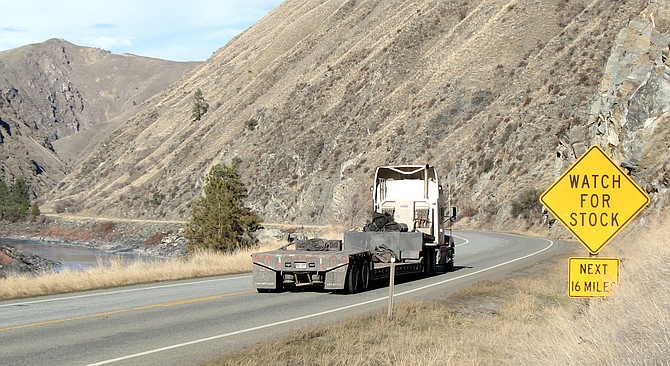 U.S. highway drivers are faced with many obstacles including ice, snow, mudslides, rocks, trees, wildlife, fire, bicyclists, dogs, kids, other vehicles, and domestic livestock.
A tragic happening in a neighboring county recently spotlighted open range, using it as a political pawn in the environmentalist against rancher scheme.
"Open range is an interesting law from way back," said Doug Giddings, Idaho County Sheriff.
The western open-range tradition originated from the early practice of unregulated grazing in newly acquired western territories, which was codified in the laws of Western U.S. as they developed written statutes, dating back to the 1880s.
Idaho Statute 25-2118 reads: "No person owning, or controlling the possession of, any domestic animal running on open range, shall have the duty to keep such animal off any highway on such range, and shall not be liable for damage to any vehicle or for injury to any person riding therein, caused by a collision between the vehicle and the animal. 'Open range' means all unenclosed lands outside of cities, villages and herd districts, upon which cattle by custom, license, lease, or permit, are grazed or permitted to roam."
Most ranchers invest a lot of time and money into their operations, including fencing, and don't intend for their quality livestock to be a roadway hazard.
Our ranch, the Gill Ranch, sits across Salmon River from U.S. Highway 95. Even this wide river is not a foolproof barrier. Believe it or not, we have had cattle hit on the highway.
The August, 2015, Idaho Driver's Manual specifically addresses open range. This section warns drivers "the presence of fences does not necessarily mean that animals are not present or do not have the right of way. Be especially careful driving at night."
This brings awareness only to Idaho drivers. Out-of-state motorists need to realize as they travel through this agricultural-based state of Idaho, an open-range state, livestock generally have the right of way.
Idaho County Undersheriff, Jim Gorges suggested more visible, different colored signage might help.
"People not from the West can't comprehend there might be livestock on the roadway," said Gorges, "Stock signs blend in too much with other signs."
A 30-mile stretch of highway between Riggins and White Bird has as many, if not more yellow, "Watch for Rock" signs as it does yellow "Watch for Stock" signs.

U.S. 95 travels 538 miles through Idaho. This north-south artery has seen much improvement through the years, resulting in higher speed limits. As the population increases, so does the traffic volume, with advanced technology creating more driver distractions.
Today, Idaho County's stretch of U.S. 95 quite possibly has more vehicles and less livestock numbers than it did several years ago.
In 2015, according to Idaho County dispatch, only four vehicle versus livestock crashes were reported, resulting in no serious injuries. All four accidents involved cows. One accident happened along U.S. 95, another U.S. Highway 12, with county roads being the scene for the other two mishaps.
Domestic livestock generally respect good fences, wildlife does not.
Changing the open range law won't eliminate the majority of road hazards.
In 2015, Idaho County dispatch also reported 66 deer, two elk, and one turkey versus vehicle collisions, all non-injury.
Vehicle operators need to be aware of their circumstances, whether it is Mother Nature producing inclement weather conditions, wild animals crossing the roadway, or domestic livestock in their path.
---
Shelley Neal is a resident of Lucile. garrett.neal@verizon.net