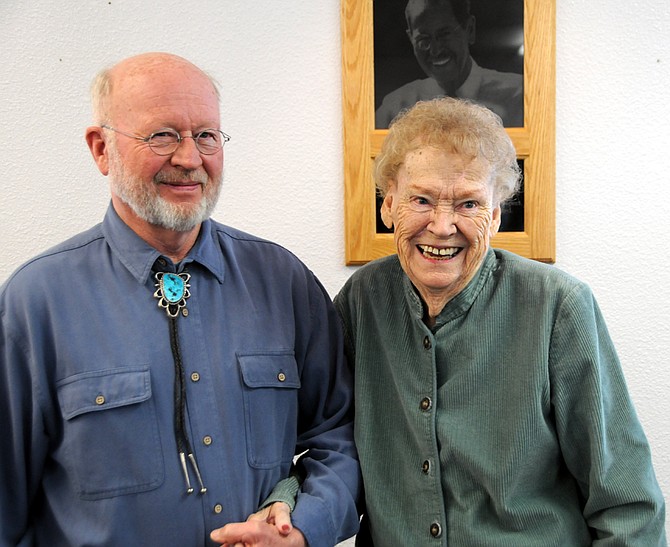 Photo by Lorie Palmer
Syringa Hospital board chair Craig Spencer thanks Fran Soltman for the Soltman family donation toward the hospital's elevator replacement and remodeling project. Fran's late husband, Jack, is seen in the plaque behind her in the Soltman building, named for the physician who practiced in Grangeville for more than 40 years.
GRANGEVILLE — "I am a firm believer that the only way we are going to continue to have quality health care close to home is by people taking ownership in our local hospital," Craig Spencer said at the Jan. 25 Syringa Hospital (SH) board meeting.
Spencer, board chair, went on to thank Fran Soltman and Kristi Soltman Brooks who were present to contribute a donation of $95,000 to SH for its new elevator in the building remodel.
"As a recent patient at Syringa, I am very thankful there are people like you who are willing to make an investment in our hospital," Spencer said.
Fran said the donation is in memory of her late husband, Dr. Jack Soltman, who practiced in Grangeville from 1946 to 1989. He died in 2004. The Soltman Center, owned by the hospital, is named for him.
"He did all the work," she smiled.
"He is definitely the reason this [donation] is possible," Brooks said.
"Well, I can tell you I'm thankful for Dr. Jack, who saved my life as a child," Spencer added.
•
---
Board education for the month was presented by Delana Burchak, discharge planner, who explained her duties and procedures.
"I help prerelease and network to see what a patient's needs are as he or she is released," she said.
Burchak coordinates follow-up care and sees if any type of medical equipment is needed.
"Of course, I review all the insurance guidelines as they are continually changing," she said, speaking on what is paid for or what might be the patient's responsibility.
She praised the Grangeville Senior Citizens Center loan closet for allowing people to use a variety of medical equipment items such as wheelchairs, walker, crutches and shower chairs.
•
---
Reports from the various departments/department heads were given at the meeting with highlights including the following:
Chief Nursing Officer:
Mickie Miller, Eric Kopczynski and CNO Cindy Daly attended a training recently for emergency preparedness.
Hospice is working with JoAnne Smith to obtain a grant for laptop computers for patient documentation.
The dietary department recently underwent the annual inspection by the Public Health Department. They are awaiting results.
Dir. of Clinic Operations:
Michelle Schaeffer reported the Syringa Clinic saw 253 new patients in the last quarter. Of those, 85 were from out of the area with 168 had previously seen different area providers (162 of those came from Dr. Hollopeter). In December alone, 43 new patients were seen from Dr. Hollopeter.
Schaeffer said Dr. Hollopeter's patients had been send a letter from a local pharmacy informing them that their prescriptions that had refills for a year were no longer valid.
"The Idaho Board of Pharmacy provided the specific code [ID Code 118.01] that states this," she said.
It was surmised that this notice may have inspired some of Dr. Hollopeter's former patients to start choosing a new health care provider.
Schaeffer said the clinic providers are "working diligently" to get patients taken care of and in to see someone as soon as possible.
"Idaho code does allow for a prescriber to write for a drug order on a short-term basis for a new patient prior to the patient's first appointment," she added.
Dir. of Human Resources:
Kathleen Walker has been hired as an ultrasonopragher to replace Leah Roberg who moved. Kim Hunter was promoted internally as the new radiology manager.
Community relations coordinator Dana Groom reported January's American Red Cross Blood Drive was successful, going three pints over the goal.
Foundation:
Thrift store manager Kristi Brooks reported net income for January was up 14 percent from the previous year.
The Grangeville City Council voted Jan. 4 to annex the thrift shop lot into the city. Annexation is expected to reduce both water and sewer costs by half.
Chief Financial Officer:
CFO Betty Watson reported December bad debts sent to collection totaled $82,651. December also showed 86 acute patient days, 41 swingbed days, four delivers and two surgeries.