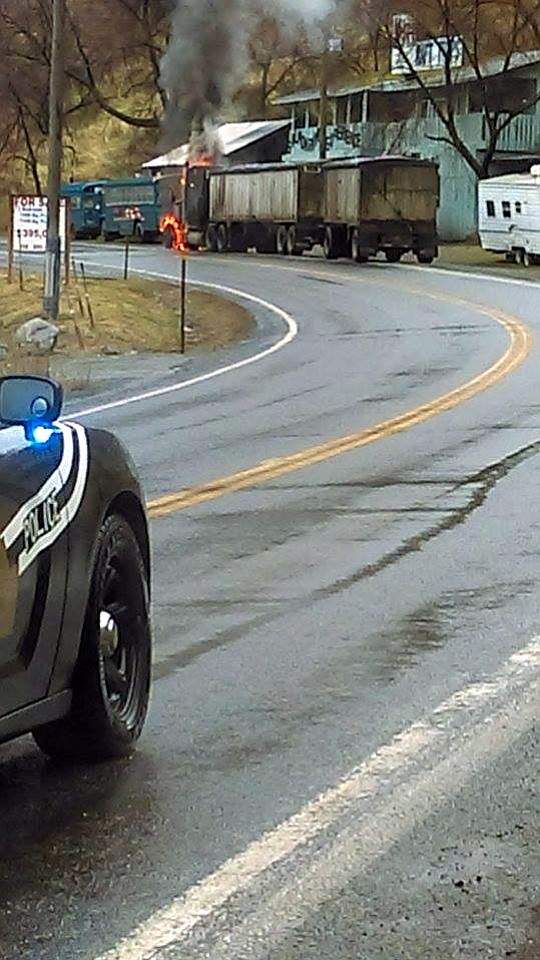 RIGGINS — U.S. Highway 95 traffic was reduced to one lane for two hours Sunday morning when a semitruck caught fire at the north entrance to Riggins.
No injuries were reported in the Feb. 14 incident that destroyed the semi; however, two hopper trailers – a 36-foot and 20-foot – and a load of peas were saved.
The fire was reported at 11:57 a.m., according to an Idaho County Sheriff's Office (ICSO) report. Darrell Roberts, age and residency unavailable, was driving a 2004 Peterbilt tractor southbound and passed the Race Creek Bridge construction traffic signal when he smelled smoke and found it was coming from his vehicle. He continued south and pulled off onto the right shoulder. As Roberts exited the cab, the truck engine compartment became totally engulfed in flames.
ICSO and Idaho State Police personnel closed north-south traffic, and at 12:06 p.m. the Riggins Fire Department responded and subsequently extinguished the semi blaze. One lane of travel was shortly after opened, and both lanes were clear for travel at 2:03 p.m. after ABT Towing removed the semi and trailers.
Gary Benefiel Inc., owns the semi and trailers, which were insured.