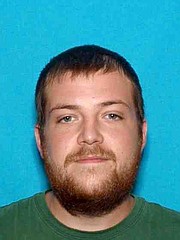 WHITE BIRD — A preliminary hearing is set this Friday, Feb. 19, for a Grangeville man charged in connection with a gold nugget collection theft from Hoot's Café last December.
Jacob W. Collier, 24, is charged with grand theft and two counts of burglary, along with misdemeanor petit theft. In incidents occurring on Dec. 7 and 10, Collier is alleged to have taken the collection belonging to café owner, Clarence McReynolds, and later taken $205 in cash. According to the investigation, the 50-piece nugget collection was valued around $35,000.
Collier was employed by the café from September to Dec. 9. The initial collection theft report led Idaho County investigators across evidence of associated thefts from the café, resulting in a warrant search of Collier's camp trailer that reported turned up evidence related to the case.
Since December, Idaho County law enforcement has been seeking Collier as a suspect in the case. Collier was arrested in Canyon County Feb. 3 on an Idaho County warrant and extradited to Grangeville where he is currently being held in the Idaho County Jail on $25,000 bond.