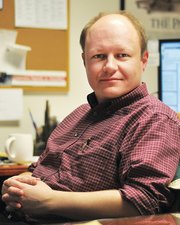 Just so you know, next Monday, Feb. 29, filings open for state and county elected offices that Republicans will be filling come the November elections.
That is, of course, if no other parties choose to file candidates.
Sure, you're in Idaho, and not just that, but you're in the reddest of the red counties: Idaho County. That can be a source of conservative pride, but it can also blind us that the only option on the ballot is the person with the capital "R" behind his or her name.
Such one-party dominance just isn't good for the marketplace of ideas. As much as the majority here values GOP values, the Grand Old Party doesn't hold the monopoly on what makes for good public policy. And conservative doesn't equate to Republican; you'll find many right-leaning folk who have jumped the GOP ship for other political waters.
And really, being unchallenged in its political dominance can make any party complacent, lazy — unresponsive to its constituents (all of them, regardless of party) and limited in its scope for finding solutions and bringing forth ideas for development and change.
Sure, it's tough running with that "D" behind your name here, or the other alphabet soup designations. You'll be running an uphill battle, you'll get lumped in with your party's wackos unfairly at the national levels, you'll be called the "throwaway vote" … and none of that's any fun.
But your party's opinions, views and platform deserve a public hearing. And if that's all they get, that can be enough to introduce new viewpoints for people to think about and perhaps raise uncomfortable questions with the powers-that-be.
We're asking a lot, but for the sake of an electorate that needs all the players in its political game, and the range of opinions that come with them, don't concede the argument. Let's see some political diversity on the ballot this year, let's challenge the establishment and give the consumers more choice on their ballots.