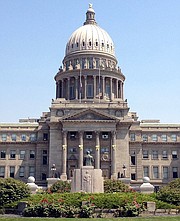 BOISE — Idaho House and Senate Education Committees chairmen made their pitches to the Joint Finance and Appropriation Committee last week, laying a more focused foundation for the legislature's education priorities this session.
Senator Dean M. Mortimer (R), District 30, quoted one sentence from every member of the Senate Education Committee in his presentation, some general, some stating specific desired priorities for the rest of the session.
Senator Mary Souza (R), District 4, said "Put the dollars in the classroom."
Senator Kelly A. Anthon (R), District 27 had a more specific request.
"Support our teachers through investment in the career ladder, restore discretionary spending to 2009 levels, and increase technology in our schools," Sen. Anthon said.
Senator Dan J Schmidt (D), District 5, reminded Sen. Mortimer that JFAC is a budgeting committee, and said it sounded like the committee wanted everything funded.
In his State of the State address, Governor C. L. "Butch" Otter called for a 7.9 percent increase in public school funding, an increase that would bring funding back to 2009 levels.
Democrats have criticized the governor's proposal, saying 2009 levels are good, but not sufficient for today's economy.
"We cannot compete in today's economy if we're still trying to catch up with 2009," Senate Minority Leader Michelle Stennett (D), District 26 said.
In contrast, Representative Reed DeMordaunt (R), chairman of the House Education Committee, said in his presentation to JFAC that he does not know if 2009 numbers are the right numbers for education spending.
"There's nothing magical about 2009, other than that's the most we've ever paid," Sen. DeMordaunt said.
During this session, the House Education Committee has heard from representatives supporting mastery-based education, a system of education that would base a student's progress off of mastery of skills rather than their age or time spent in the classroom.
"That's really the education of the future, is mastery based education," Sen. DeMordaunt told JFAC.
During JFAC approved $47,852,700 in total education spending on Thursday, as well as a 3 percent base salary increase for public school staff.
Meanwhile, the Senate Education Committee continued to hear new ideas in education, many of them echoing the governor's original proposals for the session.
On Thursday afternoon, the committee heard a bill to establish the Adult Degree Completion Scholarship, a scholarship aimed toward adults with some college credits who have not yet completed their education.
The bill asks for $5 million in ongoing General Fund appropriations.
Applicants must be a resident of Idaho, enroll as an undergraduate student at an Idaho school, have experienced a gap of three or more years in the pursuit of their degree, have at least 30 credits, demonstrate financial need through their FAFSA, and be registered as at least a part-time student.
Many testified in support of the bill, including representatives from Idaho colleges and a single mother who testified the scholarship would have helped her have a better life for her and her children.
Only one person, Wayne Hoffman, President of the Idaho Freedom Foundation, testified against the bill, saying he supported the intentions of the bill but it was not the right solution, and that future recipients might be motivated to take a three year break from school in order to receive the scholarship.
Testimony took up a majority of the meeting, and two bills - including one that would move school district trustees' elections from May in odd years to the November general election in even years - were held by the committee to be presented at a later date, despite a number of people signed up and waiting to testify.
Sen. Mortimer said the bills would be revisited at a later date, to be determined.
Senator Steven P. Thayn (R), District 8, said he could support the Adult Completion Scholarship bill if it included an additional requirement stating the recipient had a clear career path.
The committee voted to send the bill to the amending order to be revised.