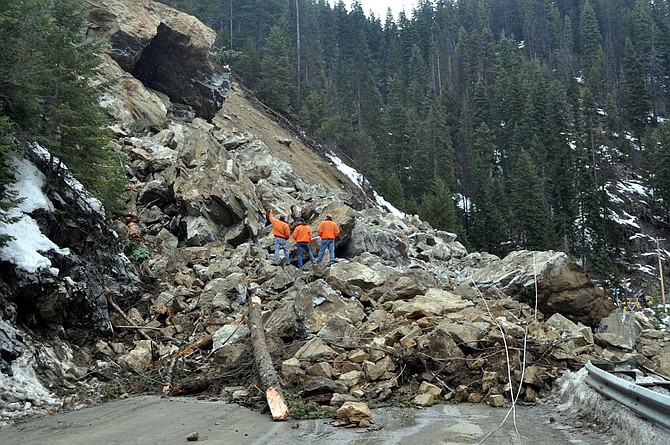 Photo by David Rauzi
Free Press / David Rauzi A three-man team inspects the landslide at milepost 39, State Highway 14, last Friday, Feb. 19, blocking both lanes of travel across a 500-yard swath. One gestures to a two-story boulder balanced atop the dirt and rock debris.
Elk City area residents have a tenuous weather-dependent connection to the outside – its goods and services, and employment — through an alternate forest route limited to three days a week. The roughly 20-mile aggregate surface single-lane – Newsome Creek Forest Service Road 1199 — currently provides the sole route for conventional traffic to enter and exit the region following last week's massive slide across State Highway 14 that dropped hundreds of thousands of tons of rock and debris across a 500-yard span of the roadway.
No vehicular traffic is possible on the highway, and when it will reopen remains undetermined; this is guessed at "three weeks at best, probably four weeks before they get it open," forecasted Idaho County Commission Chair Jim Chmelik. But the Idaho Transportation Department as yet has no reopening date, determination of which is dependent on slide stability, according to ITD spokesman Reed Hollinshead.
Ensuring stability prior to tearing into this rock pile is critical when talking about a 40-foot mass at its deepest, comprised of 75,000 to 120,000 cubic yards of material estimated at weighing between 100,000 to 162,000 tons. Near its top, a two-story boulder nearly as long as the slide itself, is balanced upon debris recently loosened by rain and melting spring snowpack.
At an emergency meeting Monday, Feb. 22, between officials with Idaho County and the Nez Perce-Clearwater National Forests, plans were set for limited traffic along the 1199 road that per an USFS closure order is restricted to all but essential traffic.
Travel is restricted to high-clearance four-wheel-drive vehicles, as well as four-wheelers and UTVs. The road will be open Mondays, Wednesdays and Fridays; only at 8 a.m. for escorted motorists to depart Elk City and then at 3 p.m. for traffic to return. Otherwise, the route is closed to travel, and it will be evaluated daily for continued usage based on weather conditions, as well as the impact from traffic.
This week, traffic was to run yesterday, Feb. 23, as well as today, Feb. 24, and again Friday; pending road review, the route would shift to the Monday-Wednesday-Friday schedule next week.
"We're concerned about managing traffic on that road, considering the conditions we're dealing with this time of year," Chmelik said, complementing discussion by Ralph Rau, Deputy Forest Supervisor, concerning the route that has for months been covered with snow, and is – depending on location – large swaths of slush or mud. Officials' discussion was for strict compliance on travel, types of vehicles as well as keeping the numbers as few as possible to avoid road damage and spun out vehicles that would block travel and result in further erosive efforts to recover these.
In Rau's words, it could be a "flat-out mess."
Both county and USFS officials worried overuse could necessitate closing the route entirely, because "with that soft of a road," according to Commissioner Skip Brandt, "there's no way you could go in now and do any kind of repairs."
Officials ask those planning trips on the route to join up with others to reduce the number of vehicles during the twice-day openings; or to use four-wheelers or UTVs that have less of an impact. As well, the Elk City Wagon Road is an alternative route into Elk City by way of snowmobiles.
'... as close as you'd want to get'
A combination of rain, melting snow and air moisture contributed to last Thursday's Feb. 18 landslide, reported around 3 p.m., at milepost 39, approximately 10 miles west of Elk City. This blocked the only access into the region during winter months that includes the Dixie, Red River, Orogrande and American River communities.
For the week leading into this incident, "it was pretty active," said ITD employee Blaine Palmer of Grangeville, who manned the milepost 37 closure last Friday and was also an eyewitness to last week's slide incident.
Palmer said that Monday through Wednesday, ITD was hauling multiple loads of debris from the slide area – "A steady stream of rock all week long," he said, and that Thursday they were flagging traffic through a one-lane corridor with several close calls from falling rock nearly striking vehicles. He was beside fellow employee Bret Edwards who took the fortunately timed video — reshared on social media and news outlets nationwide – when the trickle of debris turned into a full-blown landslide.
"We were about 20 feet away, as close as you'd want to get," Palmer said.
"It really didn't make a lot of racket," he said. "When the big stuff started rolling it was pretty quiet. It really wasn't all that loud." As it moved their way, "Bret and I were beat-feeting it," ahead of the slide as well as from falling power lines that were arcing across nearby vehicles.
Both Palmer and Hollinshead said they were fortunate that with the number of personnel and equipment in the area at that time they suffered no injury or substantial property damage.
"It was fortunate," Palmer said. "It could have got ugly."
Power disrupted for 32 hours
Slide debris blocked both lanes of travel, as well as taking out an Avista power pole and lines that resulted in power disruption to 631 customers until Friday, Feb. 19 at 11 p.m.
"Because this is a well-known area for landslides," according to Avista's Grangeville district manager Jeff Schwendener, he explained four new poles were installed as permanent repairs by crews along the Clearwater River. Partly this is for crew safety reasons in keeping them off the hillside, as well as for improved reliability of the system.
Fifteen personnel were involved in the 32-hour effort that supplemented Grangeville crews with linemen from the Pullman and Lewiston/Clarkston offices. Hillcrest Aviation of Lewiston provided a helicopter to fly poles and materials across the slide, as well as pull power line across; this avoided damaging lines by dragging them across the debris as well kept crews from traversing the dangerously lose debris.
Damage estimates for Avista were unavailable, according to Schwendener. In preparation, a Snowcat is en route to Grangeville from Spokane to have at the ready to haul personnel and materials across the 1199 Road, he said, "if another emergency were to happen in Elk City."
Water shortage a looming problem
At Monday's emergency commission meeting, discussion on other factors of the crisis included medical emergencies, which would be handled by air ambulance extraction; and a possibility that one lane could be punched through the slide to allow for fuel delivery trucks, though Jerry Zumalt, Idaho County Emergency Management coordinator, said there is no shortage on yet.
For Elk City residents not on private wells, a drinking water shortage could also be at hand, thanks again to Mother Nature.
According to Zumalt, warm temperatures resulted in turbidity issues that clogged filters for the civic water system, during which the system lost power due to the outage. Despite subsequent maintenance, equipment is not functioning, and a repair team is currently en route. As of Sunday, Feb. 21, the reservoir had 13 feet of stored water, and on average usage is three feet per day.
Multiple factors determine incident duration
According to ITD Lewiston-area district engineer Dave Kuisti, "The size of the slide, the large volume of unstable material at the top of the slide, and the size of the slide debris will complicate the removal."
Slide stability "is in Mother Nature's court," said ITD's Hollinshead, waiting on warmer, drier weather that will determine when debris removal can proceed. Cost estimates for such a project, whether this would be an ITD or private contractor project, and how the work would be conducted are issues yet undetermined. As far as project duration, Hollinshead said a factor in this would be securing locations to take removed debris; depending on distance of such holding spots, this could affect length time of the work.
This stretch of road has been prone to slide activity, according to Hollinshead, and as well as regular debris cleanup, ITD conducts preventative maintenance such as rock scaling to bring down larger boulders.
"Even with all these precautions," he said, the bottom line is Mother Nature, as in the past and also now, is in control, "and if she wants to make something happen, she'll make it happen."
---
UPDATE, Feb. 24 -- The Idaho County Sheriff's Office reports new times for Elk City departure and return:
On Tuesday, Feb. 23, the Idaho County Commission declared a local disaster as a result of the rock slide that seeks state and federal assistance to supplement local efforts to protect, rehabilitate and replace public property.
Estimates to re-establish normal traffic flow on State Highway 14 are reported beyond three weeks and to cost in excess of $1.5 million.