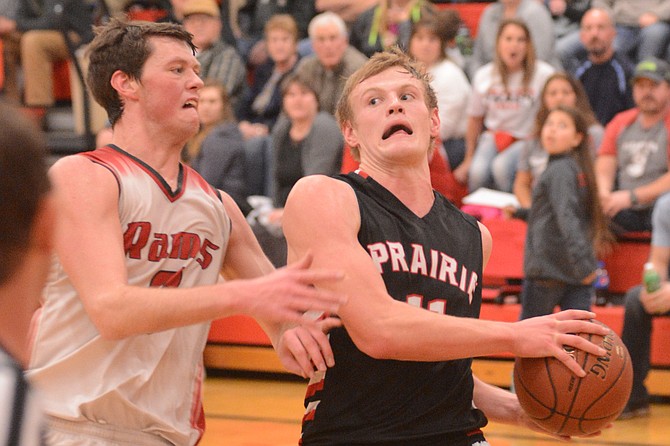 Photo by Andrew Ottoson
CV's Grant Wallace and Prairie's Jake Bruner dueled back and forth throughout an intense matchup Friday night in Kooskia.
Boys basketball schedule/results, Jan. 8
Prairie 55, Clearwater Valley 39
Genesee 55, Kamiah 50 (OT)
Salmon River 52, Meadows Valley 30
Girls basketball schedule, Jan. 8
No local games tonight.
(Check back later for results. To report a score, text 208-507-0675, Facebook us, or email aottoson@idahocountyfreepress.com. Complete score sheets received by 10 p.m. will be written up tonight.)
WHERE WE'LL BE
KOOSKIA - The cross-county matchup of Prairie and Clearwater Valley features teams in contention near the top of the Whitepine League, but also two of the area's outstanding senior basketball players.
On Clearwater Valley's side is transfer Grant Wallace, who has posted numbers big enough to match his 6-7 frame. Most recently, Wallace scored 14 points during the Rams' 55-34 loss Tuesday night at league-leading Lapwai.
On Prairie's side is Jake Bruner, who scored 20 in Prairie's 66-43 win over Moscow last night.
AROUND THE LEAGUES
At Kamiah, Genesee will face a tough Kubs team looking to climb up from sixth in the Whitepine League standings, in which Genesee presently trails only Lapwai and Prairie. Last time out, Kamiah's Chris Pethtel scored 29 in a 59-52 loss Tuesday night at Grangeville. Genesee lost a road game to Prairie 67-44 the same night.
At New Meadows, Salmon River will open its Long Pin Conference slate on the road against the winless Mountaineers. Last night at Orofino, the Savages came within a field goal of beating the 2A Maniacs behind Tucker Boyd's 11 points.
MORE TO SEE
In wrestling action, the Central Idaho League will meet in Orofino at 6 p.m., with the Maniac Invitational Tournament set for tomorrow.
RESULTS
KOOSKIA -- Clearwater Valley had the Pirates in a tough spot, having stuck Prairie standout Jake Bruner with three fouls early in the first half of the 55-39 Pirates win on CV's floor Friday night. The Rams took a 25-24 lead into the break, but during the third quarter, Bruner showed just how big an impact he makes.
"That was a good second half," PHS coach Teel Bruner said of his team's surge after intermission. "We've had three really good second halves this week. ... I loved the zone in the fourth quarter. The kids did a terrific job. We did a good job on the glass, rebounding. That's what this team has to do."
"It was within our grasp," Rams coach Aaron Skinner said. "I told the guys: that's a team coming off a long season last year and they know what it takes to win."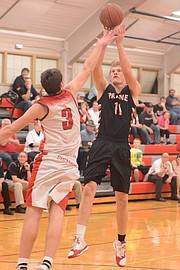 With 18 points, Bruner led the Pirates back from the halftime deficit, scoring a jumper over Rams tower of power Grant Wallace for the first points of the third quarter. Bruner tallied again on a couple of jump shots -- one by way of a set play from underneath the Rams' goal, followed shortly after by a mid-range jumper he hoisted out of heavy traffic after sniffing out an offensive rebound.
When Bruner got into foul trouble, the Pirates tasked junior guard Tyson Schlader with marking Wallace.
"Tyson did a good job, but that kid is good," Teel Bruner said. "He makes them a real tough team."
Wallace answered at the other end, lifting the Rams within 35-33. But Bruner lengthened Prairie's lead to five, 40-35, with a fast break layup at the end of the third quarter.
Wallace tumbled over Bruner to finish at the rim starting the fourth quarter, but which Bruner answered with an alley-oop layup off an inbounds lob from the left wing sideline. Prairie's Hunter Chaffee tallied six of his eight points during the fourth quarter, including a jumper in transition on which he pulled up at the elbow to create a clean look at a 10-footer. That one put the Pirates up by 13 with less than two minutes remaining, effectively sealing the outcome.
Prairie's transition scoring chances saw frequently on either end of the play -- throwing a long outlet pass after nabbing defensive rebounds deep in the paint, but also attacking the rim with his dribble whenever he found himself with the ball one step ahead of the last defender.
"That's something we practice, and the guys made nice passes," Teel Bruner said.
The Rams followed through with the usual tactic to extend close games, but Bruner and Brandon Higgins extended Prairie's lead with their foul shots.
"Up until about the four-minute mark in the fourth quarter, it could have gone either way," Skinner said.
Higgins finished with 12 points and Wallace finished with 18.
The win keeps Prairie in second place in the Whitepine League, with a road game at Genesee looming. Though the Pirates thrashed the Bulldogs 67-44 on Jan. 6, Bruner said he expects a much tougher game when the Pirates head north next Tuesday. Prairie will host Troy Saturday night.
CV's next game will be Jan. 12 at Grangeville.
PREVIOUSLY
Details on Thursday's games are here.
NEXT
Details on Saturday's games are here.