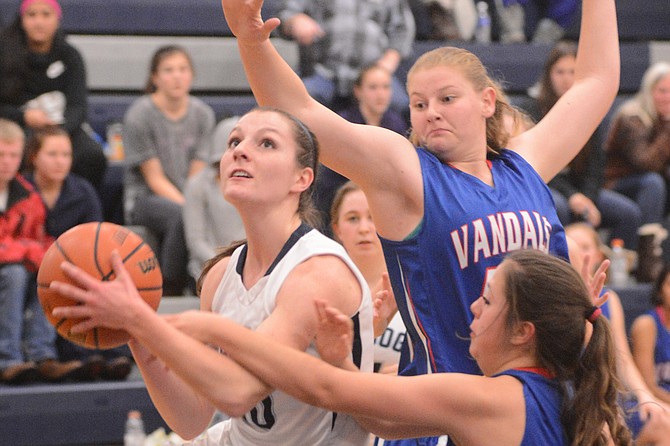 Photo by Andrew Ottoson
With nearly 18 points per game through the early winter, Grangeville's Hailey Sullivan has steadied the girls team in the absence of fellow seniors Sarah Wilson and Madison Brown, who are out with injuries. By coach Larson Anderson's estimate, the sidelining of the two athletic standouts has cost the Bulldogs about 20 points per game — nearly half the total the team averaged a year ago. Pictured, Sullivan scores a layup, and draws a foul in the process. The Grangeville girls (3-3) are off for the rest of 2015, and are set to resume Jan. 2 at CDA Charter.
All Grangeville fans will get in free on this Saturday, Jan. 16, when the Bulldogs play St. Maries beginning at noon. Four games will be played, with the girls first and the boys to follow. Varsity times are 1:30 p.m. for the girls and 4:30 p.m. for the boys.
"This is a Grangeville Fan Appreciation Day," GHS activities director Matt Dame said.