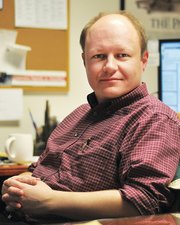 Will they be good neighbors?
That's the question we ask ourselves when someone pulls up with the moving van into the vacant house next to us. Can we get along? Will they maintain their property to both its benefit and that of the neighborhood? Will they not be disruptive?
Overall, will they reflect our values?
That's really an issue for Idaho County residents, which explains the passion involved in the ongoing Lochsa land exchange controversy … and more recently the concern with Texas billionaire brothers Farris and Dan Wilks' purchase in the past six years of around 38,000 acres in the Joseph Plains area.
Concern raised by the public is the supposed closure of these plains lands for hunting and recreation, privileges that previous landowners have granted in the past. For Idaho County, the concern is solely they pay their taxes.
Our concern is will they be good neighbors?
We ask this as that's the rural western skepticism of "outsiders" and absentee landlords. Too often we've seen public lands decisions made in the marbled halls of Congress that impact our families, economies and ways of life. Rules, regulations and shifts in national opinion result in decisions that impact, for example, how and whether we can harvest timber or what activity is warranted in a stream or river. The same goes for big business, as reflected in significant public concern on how Western Pacific Timber would manage public lands they would acquire in the Lochsa swap: Will public access continue? Will lands be managed for long-term benefit and not ravaged for short-term profit gain?
For the Wilks, while public access and paying taxes are both good things, we ask whether they will be good stewards? Will their land managers understand the need for invasive weed control, for mitigation efforts to manage such natural disasters as fire or pest infestation? Will they respect their neighbors' critical reliance on their adjacent lands for their livelihoods that feed families and fuel the local economy?
It is disrespect for such local values that has earned corporations local enmity. It is frustration for that disregard that earned the Hammons in Oregon a federal prison sentence for their efforts to address federal land neglect adjacent to their agricultural properties. And on that last, it is not surprising to see the Burns, Ore., federal building occupation as a result. Westerners are tired at heart with indifferent outside forces operating with cold bureaucracy toward decisions that hurt us, our families, our jobs, our local economies.
Like any of us, the Wilks' private property is their right to manage as they see fit and is none of anyone's business. But if they're smart, if they want to benefit from the cooperation and helping-hand nature of our region, they'll embrace the local respect for the land, and they'll be good neighbors.