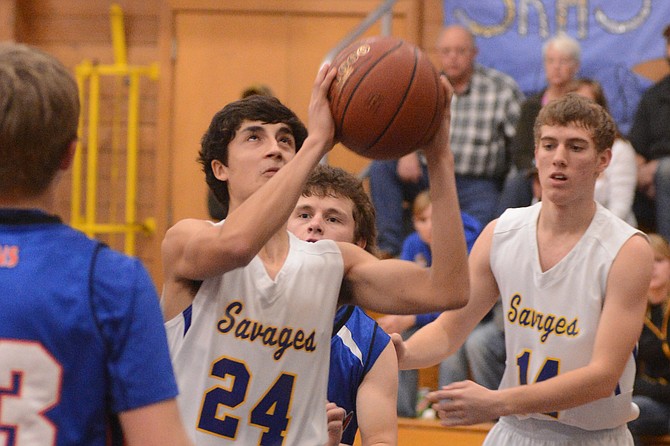 Photo by Andrew Ottoson
Salmon River senior Alex Diaz tallied two of his 10 on this jump shot in traffic Friday night, Jan. 15.
Boys basketball schedule (JV game start times)
Tri-Valley 43, Salmon River 39
Girls basketball schedule (JV game start times)
Genesee 52, Kamiah 24
Salmon River 64, Tri-Valley 35
(Check back later for results. To report a score, text 208-507-0675, Facebook us, or e-mail us. Complete score sheets received by 10 p.m. will be written up tonight.)
WHERE WE'LL BE
RIGGINS - The Salmon River girls will look to hold on to the top spot in the Long Pin Conference, while the boys will look for their second league win tonight against Tri-Valley. This will be the first Savages-Titans meeting of the season. The Tri-Valley boys are coming off a 65-45 loss to Cascade, while the Tri-Valley girls recently beat Cascade 53-23. In comparison, the SRHS girls beat Cascade 67-29 in December. The Tri-Valley boys recently beat Garden Valley 73-46, while the SRHS boys most recent game outing was a 61-41 win over Garden Valley last Saturday.
AROUND THE LEAGUES
At Kamiah, the Genesee girls will look to keep up their fiery shooting while the Kubs most recently fell to Lapwai 87-19.
MORE TO SEE
In wrestling action, Idaho County teams are competing tonight and tomorrow at Magic Valley Tournament in Wendell.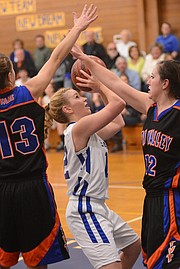 RESULTS
RIGGINS - The Salmon River boys had a shot at the end, but a clean look at a triple with less than 20 seconds left did not fall and Tri-Valley iced a 43-39 win at the foul line. The tough shooting night began early in the evening, but the Savages defense made a game of it.
"The defense was great," coach Charlie Shepherd said. "Rebounding, great. Turnovers, not so good. Just did not shoot the ball well. You know you've defended well when score 15 points in a half, but still have the lead. They got hot and made some shots, and we did not match them. We've got to have our offense going tomorrow."
The Savages -- both boys and girls -- are slated to visit Council tomorrow night, with the varsity teams to follow the JV boys, who tip off at 3 p.m. MT.
After Devan Branstetter tied the game at 35-all late in the fourth, Tri-Valley senior Cole Bunker hit a three that set up a furious endgame. Salmon River closed within a point on a fast-break layup and pulled ahead with a 13-footer by Rylie Travis, prompting a Titans timeout with exactly one minute left. Tri-Valley took the lead with a second-chance basket with about 40 seconds left, and Salmon River worked the remainder of the clock to set up a three-point chance, which fell away, after which Tri-Valley pushed the lead to four with free throws.
The Salmon River girls thrashed their counterparts 64-35 behind Maddy Tucker (25 points) and Sarah Laritz (18).
"I was pleased with the effort," coach Paula Tucker said. "Defensively, they worked the press better than the last couple of games and offensively, they did well in transition. But they're capable of scoring a whole lot more."
The first quarter left no doubt about the outcome: the SRHS girls opened up a 24-7 lead, using a 12-0 run to advance the lead from 8-5 to 20-5. They led by 21 at halftime and by as many as 30 during the second half.
PREVIOUSLY
Details on Thursday's games are here.
NEXT
Details on Saturday's games are here.